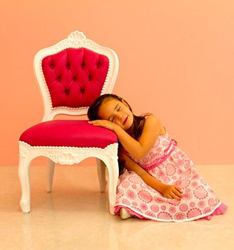 Stylized seating is great for imaginative children, turning a utilitarian piece of furniture into a stylish plaything.
(PRWEB) August 20, 2013
HomeThangs.com – the Online Home Improvement Store has made their goal to deliver the right product to the consumer. With that in mind, shopping and home design tips, as well as special product selections are being introduced.
Kid's furniture isn't usually made for style. It's meant to be pint sized, colorful, and durable, but not really a permanent part of a home's decor. It appeals to children while they're small, but is often meant to be grown out of. But just because furniture is designed for small kids doesn't mean it can't appeal to grown ups as well. In fact, HomeThangs.com has introduced a guide to kid's furniture that will look good (and even be useful) even after it's been outgrown.
Most kid's furniture is pretty simple, done in bold primary colors and with very basic designs, meant to resemble "big person" furniture without really having the design flair and sophistication of full sized pieces. But many modern designers actually make pint-size replicas of many of their most stylish or playful designs. PolArt, for example, offers miniature versions of their decorative antique-inspired chairs that are just the right size for small bottoms.
Their "mini" line is available in all the same bright, colorful styles finishes as their main collection, which makes it simple to coordinate a set of kid's furniture with the rest of the room. It also makes it easy to customize the furniture in a child's favorite color pairings, even if those colors happen to be a little wild. Done in pink and white, their antique-styled furniture creates a picture perfect play set for a pint sized princess, but they have eleven different colors that can be mixed and matched for a huge variety of other styles, too.
Better still, several of the pieces from the "mini" collection can easily be repurposed as grown up furniture once the kids have outgrown them. Their miniature tables are just big enough to serve as a small accent table (though maybe a little small for a grown up side table), while their petite ottomans makes a picture-perfect footrest once they're no longer quite big enough to serve as a child's personal sofa. Essentially it's the best of both worlds – a touch of creativity-inspiring whimsy for the kids, and a beautiful design that will actually look good in a grown up space.
PolArt isn't the only company that does this, either. Zuo Modern also offers scale models of some of their most popular (and colorful) designs. Many of their tables and chairs are in kid friendly sizes and colors, too, and are made of a durable polycarbonate that will hold up to the rigors of use and abuse by young children. Zuo's furniture has a slightly more contemporary style that's a little less showy, meaning their kid's furniture has a posh, sophisticated look that will blend seamlessly with a grown-up space.
Zuo is also great at disguising kid's furniture as accent furniture. Their pup chair, for example, is the perfect mount for a small child, a combination chair and hobby horse. But unlike a standard chair, it can be left sitting just about anywhere in the house and not stand out because it looks more like a quirky statue than abandoned furniture. That means it can be set down in any room without creating a sense of clutter.
These stylized seats are great for imaginative children, turning a utilitarian piece of furniture into a stylish plaything. Zuo's in particular are made of scratch-proof polypropylene, meaning they'll hold up to very rough treatment and are light enough to be carried (or "ridden") around by the child themselves. Better still, even once their "useful" life is over, they still make a great, adorable statement piece that's sure to please.
To see more fun kid's furniture, read the full article here.
HomeThangs.com is not only a home improvement superstore, it also provides expert design tips and a comprehensive shopping guide, taking the ideas from professional interior designers, and offering tips to the consumers on how to pick the products to best suit their needs.