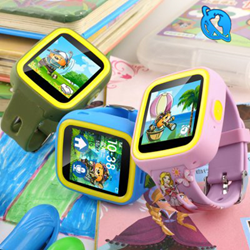 With built in GPS locators and cell phone functions the kids smart watches allow parents to keep tabs on their children
Shenzhen, Guangdong (PRWEB) February 18, 2016
When it comes to child safety, parents could feel like they need eyes in the back of their heads, even then it only takes a momentary lapse in a parent's attention for children to wander off unnoticed. Ms Rose Li, Manager at Chinavasion says, "This may be why one of the fastest growing sectors in the wearables market is focused on child safety".
There is hardly a week goes by when there isn't a new story about a child being abducted, going missing or getting involved in an accident. Ms Rose Li, PR says, "The world isn't as forgiving as it used to be and this certainly appears to be a driving force behind the growth in kids smart watches"
These GPS tracking watches for kids are lightweight wearables with the ability to send out their location to a secure smartphone or computer app. While Western-branded versions can retail at over $100, many with added monthly subscription services, Chinese manufacturers are hitting back with affordable alternatives.
"Chinavasion has been quick to realize the growing demand for affordable kid's wearables and working closely with selected Chinese manufacturers have be able to source a number of high quality alternatives for discerning consumers", advised Ms Li.
With built in GPS locators and cell phone functions the kids smart watches allow parents to keep tabs on their kids. The kids watches can make phone calls to preset numbers as well as receive incoming calls from a white list of recognized safe numbers.
Ms Rose Li said, "These Chinese made alternatives use the same technology and components as most western models but generally require no subscription fees and can cost a fraction of the price."
The phone function allows a parent to have direct control over who can contact their child. The kids watches have SIM cards support along with GPS locators to pinpoint a child's location at any time. Parents can set up boundaries on the GPS tracking watches that can send notifications to a Smartphone should the wearer wander from a set area.
Rose Li states, "Chinavasion is proud to be able to bring these wearable cell phone watches and kid locators to the western market, where they can be purchased at competitive wholesale prices so every parent can afford to keep their kid safe with the latest technological advances."
Chinavasion is a China wholesale company with several years expertise delivering the best Chinese electronics to millions of customers around the globe.