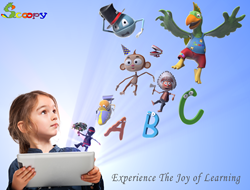 Break down barriers and help bring the world of virtual education, within reach to children from all over the world while instilling in them a love for learning.
New Jersey, USA & Tel Aviv, Israel (PRWEB) May 07, 2014
Production Company Refael launched their crowdfunding campaign, and in just under a week raised close to 40% of the total capital needed to create the Scoopy TV educational platform for kids. Scoopy TV made headlines last week when they launched their crowdfunding campaign that aims to revolutionize virtual education and English language instruction through use of a fun and friendly animated parrot. Refael Productions announced the celebration of 100th anniversary of Mother's Day with a special offer for the coming week. Offer will be announced via Scoopy TV Indiegogo page.
Scoopy TV is an independent project from Refael Productions, internationally recognized production and animation studio. Scoopy TV creators launched out of a desire to provide children all over the world the chance to study English using a revolutionary educational format that was developed exclusively for Refael Productions. The unique format intertwines entertainment, engagement and interactive animation with high quality graphics and technology in order to create a safe and nurturing environment where kids can gain the foundations they need for success.
"By bringing our in house animation and production talents to the virtual classroom setting, we hope to change the world we live in. We plan to give children from all over the world the basic tools they need to succeed – the ability to learn English from anywhere, anytime – and the understanding that learning can be fun," says Ofira Levi, CEO of Refael.
To make this happen, the animation team at Refael's studios created an animated character called Scoopy that seamlessly integrates between the real world and the magical futuristic world in which he lives.
Scoopy embodies the values and traits parents seek to engrain in their children such as non-violence, healthy eating habits, importance of sports and more, while maintaining a childlike nature that appeals to and entertains children.
In addition to having educators, parents and children reviewing Scoopy TV, Refael Productions has Lily Goldstein, a recognized pedagogical and linguistic consultant overseeing the educational content of ScoopyTV.
The aim of the Indiegogo campaign is to raise capital in order to create the Scoopy TV platform. By pre-selling premium zone subscriptions, Refael hopes to raise enough capital to create more videos, games and activities for kids so they can learn English while having fun. The ultimate goal, Co-Founder Itsik Levy says, is to "break down barriers and help bring the world of virtual education, within reach to children from all over the world while instilling in them a love for learning."
The creators of Scoopy TV want to ensure that every child has the chance to learn English with Scoopy. That is why they created the give-back campaign that is already built in to some of their Indiegogo rewards where each premium subscription pre-ordered is matched with a donation of a premium subscription to a community, school or child in need.
About Refael Productions
Refael Productions is an internationally recognized production company catering worldwide brands for almost 10 years. Refael has a leading 3D animation studio and worldwide acting, graphic design, animation and voiceover talents. Scoopy TV is the leading independent project of Refael Productions.
For more information, visit https://www.indiegogo.com/projects/scoopy-tv-experience-the-joy-of-learning.