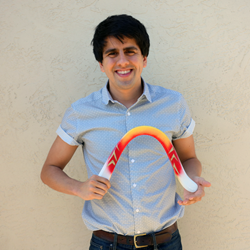 Foam boomerangs can be easily learned and thrown even by a 5 year old child!
Oceanside, CA (PRWEB) November 24, 2015
Across popular culture from the "Legend of Zelda" to "Batman", boomerangs have long captured the attention of kids and adults worldwide. Kids often want to emulate their favorite action hero and add a boomerang to their personal utility belt, but boomerangs come in a variety of materials from soft foam or plastic to traditional wood and even carbon fiber. Choosing a boomerang for a child can be challenging, so here are some tips on how to pick one that will work and excite kids of all ages.
In the spirit of Christmas, Colorado Boomerangs is offering free training with a "How to Throw Boomerangs" video, a nice little boomerang throwing booklet and we are giving 30 boomerangs away this Christmas. Every day from November 20th through December 20th, Boomerangs.com will be giving a boomerang away to help people have a boomerang which they might not otherwise be able to afford.
It is actually quite easy to get a real boomerang to return. The two keys to buying a great kid's boomerang are to choose the right material and buy from a real boomerang company. There are a lot of V-shaped sticks and Australian souvenirs out there, but real boomerangs have curved airfoils that make sure the boomerang can return. Boomerangs are like little airplane wings, which when thrown with a lot of spin can effectively "fly". Using a principle called gyroscopic precession, they turn through the air to return to you.
An easy way to know you're buying a real boomerang is to look for a product video showing the boomerang in flight and returning to the thrower. Good boomerang companies will also offer training materials to help ensure that kids are able to successfully throw and catch boomerangs.
Boomerangs for kids are smaller and lighter which makes it easier for young kids to throw. For small children ages 5-8, often it is best to choose a foam boomerang, which can be caught without causing injury and can even be thrown indoors without damaging the furniture! Examples of good foam boomerangs are the Funfly Boomerangs. These sorts of foam boomerangs can be easily learned and thrown even by a 5 year old child with successful catches!
A somewhat older child might like a Rain Forest boomerang. It is a little heavier for children 8-10 but also made of soft plastic for increased safety.
For 10 year olds and above the Blue Angel and the Bumblebee are recommended. You can see a couple 10 year olds throw and catch these boomerangs with ease on our website.
Throwing boomerangs is a STEM education sport, involving aerodynamics and scientific method approaches to boomerang throwing technique. Learning how to throw and catch a boomerang can be a positive learning experience as well as a fun physical activity.
The how to throw video features 2 Australian boomerang throwing champions, Roger Perry and his son Grant Perry with a brief overview of how to throw and catch boomerangs. Modern sports boomerangs are often designed with specific flight characteristics, for various ages and abilities. Colorado Boomerangs attempts to organize boomerangs into age groups and by various characteristics such as the materials used, design parameters, place of manufacture...etc.
Advanced technology boomerangs called "MTA" boomerangs ( for Maximum Time Aloft ) have been "flown" for over 14 minutes in a single throw. The current world record for throwing "Long Distance" boomerangs is 238 meters with a return. That's over 2 football fields with a return to the same location. "Fast Catch" boomerangs are designed to win fast catch competitions, which involve throwing and catching 5 boomerangs at least 15 meters as quickly as possible. The current fast catch record is 5 throws and catches in 14.6 seconds.
Boomerang technology has advanced to levels far beyond what most Aboriginal Australians could have dreamed. A popular hobby boomerang game is called "Aussie Round", which involves throwing and catching 5 boomerangs at least 40 yards as precisely as possible. A top boomerang competitor can throw a boomerang 50 meters and catch it within a 5 meter circle multiple times in a competition event.
Encouraging children to emulate their favorite action hero can be a positive approach to to getting kids outdoors doing physical activity. It might even develop into a lifetime hobby. It can be a particularly fun learning activity if it can be done safely, successfully and driven by the child's sincere interest.
For more information please consult our website. Get Outdoors!