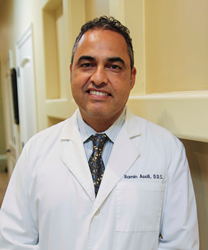 East Los Angeles, CA (PRWEB) November 07, 2016
East Los Angeles dentist, Dr. Ramin Assili, announces that he now offers a comprehensive selection of dental treatments and sedation options for children. With several restorative, preventive, and kids dental sedation choices for young patients, Dr. Assili can better assure their oral health immediately and in the long term. Whereas preventive treatments help kids avoid dental problems in the future, restorative options resolve existing issues. Sedation dentistry can make treatment possible for kids with anxiety, as well as those with neurological or developmental conditions.
Several popular preventive, restorative, and sedative options are offered by Dr. Assili, kids dentist, and the team. Sealants and fluoride are both available, along with check-ups and exams for prevention of tooth decay. Sealants are essentially clear coatings painted over teeth for protection, and fluoride is a naturally occurring mineral that strengthens teeth and fights cavities. Restorations at the office include direct fillings, indirect fillings, root canal therapy, and more. Fillings available in tooth-colored shades, are used to repair cavities or other damage, and root canals may be advised in order to save infected teeth. Inhaled, oral, and IV sedation options are available based on the procedure and individual eligibility.
Many other procedures are also performed at the office of Dr. Assili. For correcting bite irregularities discreetly, eligible patients can receive Invisalign or braces. Periodontal treatment is utilized to stop and reverse gum disease. Cosmetic dental treatments, including veneers, crowns, and teeth whitening, are available to improve the appearance of the teeth and gums. Dr. Assili also performs sleep dentistry, which addresses sleep apnea with innovative dental solutions, and TMJ treatments, which are performed in a variety of ways based on the cause and symptoms.
East Los Angeles dentist Dr. Ramin Assili is a Biochemistry graduate of California State University, Northridge, who earned his Doctorate of Dental Surgery at University of California, Los Angeles. Since graduation, Dr. Assili has also completed continuing education in specialties such as dental implantology, which he studied at the world-renowned Misch Implant Institute, located in Seattle. For almost twenty years, Dr. Assili has been a reputable member of several professional organizations and has continued to give patients consistently high-quality care for their oral and dental health.