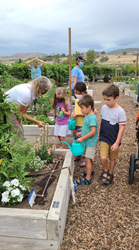 Last year, thanks to the support of a generous donor, we were able to translate our popular "Lessons to Grow By" study units into Spanish.
BURLINGTON, Va. (PRWEB) September 22, 2022
KidsGardening, a U.S.-based national nonprofit organization dedicated to ensuring all kids have the opportunity to learn through the garden, is thrilled to announce the release of its most popular garden education materials in Spanish.
Since launching the Youth Garden Grant in 1982, KidsGardening has been a leader in the youth gardening movement. As a national nonprofit, they inspire and support garden educators, volunteers, and families by offering grants and original educational resources and fostering an online community of dedicated youth garden advocates.
Today, the organization unveils a new "Siembra con Niños" section of its website, with translations of free popular gardening activities and lessons designed to help educators and parents garden with the children in their lives.
Research has shown that gardening with children improves nutritional attitudes and educational outcomes, enhances social and emotional learning and gives rise to environmental stewardship in youth across the country.
"Last year, thanks to the support of a generous donor, we were able to translate our popular "Lessons to Grow By" study units into Spanish. We were so thrilled to see how much parents and educators used them that we knew we needed to make Spanish translation of our educational materials a priority going forward," says Em Shipman, executive director of KidsGardening.
In addition to the lessons and activities, the organization will also make its long-running Youth Garden Grant available in Spanish when it launches in October, including the grant information and application. Review and follow-up will also be conducted in Spanish. This will be the first and only youth garden grant made available in Spanish in the United States.
More than 559 million people globally speak Spanish, and it is expected, according to the Census Bureau, that by 2050, one in three people in the United States will speak Spanish (including bilingual people who speak English). However, the production of content related to gardening is still predominantly in English.
"This is a great opportunity for Spanish-speaking children and educators across the country to access all the benefits that garden-based learning can provide," says Perla Sofía Curbelo-Santiago, a member of KidsGardening's board of directors. KidsGardening.org offers hundreds of free online lesson plans and activities. Making these available in Spanish is a great step towards more equitable access to the benefits of nature. Thirteen percent of the US population speaks Spanish at home, and 6 million of them are kids."
Related links
Siembra con niños
Youth Garden Grant
Lessons to Grow By / Lecciones Para Crecer
Actualizaciones sobre nuestros recursos en español.
###
KidsGardening, una organización nacional, sin fines de lucro, con sede en los EE. UU. y dedicada a garantizar que todos los niños tengan la oportunidad de aprender a través de actividades de siembra, se complace en anunciar el lanzamiento de sus más populares materiales educativos sobre jardinería en el idioma español.
Desde el lanzamiento de Youth Garden Grant en 1982, KidsGardening ha liderado el movimiento de la jardinería juvenil. Como organización nacional, inspiran y apoyan a los educadores, voluntarios y familias ofreciendo subvenciones y recursos educativos originales, y fomentando una comunidad online de jóvenes, junto a educadores y familiares, apasionados y defensores de la jardinería.
Hoy, la organización presenta en su sitio electrónico la nueva sección "Siembra con Niños". Esta sección cuenta con divertidas actividades y lecciones de jardinería traducidas al idioma español. Las mismas son gratuitas y están diseñadas para ayudar a educadores y padres a sembrar con los niños que forman parte de sus vidas.
Investigaciones han demostrado que involucrar a los niños y niñas en la jardinería mejora sus actitudes nutricionales y sus resultados educativos; mejora su aprendizaje social y emocional, y potencia su compromiso ambiental.
"El año pasado, gracias al apoyo de un generoso donante, pudimos traducir al español nuestras más populares unidades de estudio: "Lecciones para crecer". Nos emocionó tanto el ver cómo padres y educadores los usaban que sabíamos que sería necesario priorizar la traducción al español de nuestros materiales educativos", dijo Em Shipman, directora ejecutiva de KidsGardening.
Además de las lecciones y actividades, la Organización también tendrá disponible en español su reconocida subvención Youth Garden Grant. A partir de octubre, fecha regular en que comienza la convocatoria, los detalles y el formulario de solicitud también estarán en español. La revisión y el seguimiento también se realizarán en este idioma. Esta será la primera y única subvención de jardinería juvenil en los Estados Unidos disponible en español.
El idioma español es hablado por más de 559 millones de personas en todo el mundo y se espera, según la Oficina del Censo, que para el 2050, una de cada tres personas en los Estados Unidos hablará español (incluidas las personas bilingües que hablan inglés). Sin embargo, la producción de contenidos relacionados con la jardinería sigue siendo predominantemente en inglés.
"Esta es una gran oportunidad para que los niños y educadores de todo el país, que hablan español, accedan a todos los beneficios que puede brindar el aprendizaje basado en el jardín y la siembra", comentó Perla Sofía Curbelo-Santiago, miembro de la junta directiva de KidsGardening. KidsGardening.org ofrece cientos de planes educativos y actividades gratuitas en línea. Que estén disponibles en español es un gran paso hacia un acceso más equitativo a los beneficios de la naturaleza. El trece porciento de la población estadounidense habla español en casa, y 6 millones de ellos son niños".