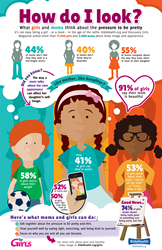 Impossible standards just tear us down, making us focus on flaws and making it hard to accept and love ourselves. This blocks us from doing and being our best. - D'Arcy Lyness, Ph.D.
Wilmington, DE (PRWEB) May 20, 2014
It's not easy being a girl - or a mom - in the age of the selfie. KidsHealth.org and Discovery Girls Magazine surveyed 2,400 moms and more than 11,500 girls to find out what they think about body image and appearance. The survey found that half of moms and girls say they don't like how they look in a selfie. However, most daughters surveyed think their moms are beautiful, even though girls struggle with their own appearance.
Giving the right messages to girls starting at an early age can help support positive body image and self-acceptance. In the survey, girls 13 and older were more likely to say they didn't like their looks and to be preoccupied with the subject. For instance, 63% think about their appearance constantly or many times a day vs. 55% for younger girls. Only 36% of older girls consider themselves pretty/beautiful, compared with 41% of younger girls. And 63% of older girls worry about weight compared with 53% of younger girls.
This suggests that dissatisfaction/preoccupation with appearance increases as girls mature into teens. But moms are in a unique position to help girls like their looks and take good care of their bodies.
"Girls who know they are pretty, just as they are, can feel the easy confidence that comes with self-acceptance," says D'Arcy Lyness, PhD, behavioral health editor for KidsHealth.org. "Impossible standards just tear us down, making us focus on flaws and making it hard to accept and love ourselves. This blocks us from doing and being our best."
To help moms and daughters improve their self-esteem and outlook, KidsHealth offers tips and advice here:
For Parents: http://kidshealth.org/parent/emotions/feelings/poll-looks.html
For Kids: http://kidshealth.org/kid/talk/kidssay/girls-body-image.html
For Teens: http://teenshealth.org/teen/your_mind/body_image/body_image.html
To download the How Do I Look? infographic or animated video for this survey, please visit: http://kidshealth.org/media/kidspoll/HowDoILook.html.
###
About KidsHealth®
KidsHealth.org is the #1 site devoted to children's health and development in English and Spanish. Each year, over 250 million parents, kids, and teens turn to KidsHealth.org for expert answers, making it the Web's most-accessed site on children's health. KidsHealth.org has been honored as one of the 30 Best Websites by U.S. News & World Report, one of the 50 Coolest Websites by TIME magazine, and the Best Family Health Site "For Moms" by Good Housekeeping. KidsHealth also creates KidsHealth in the Classroom, a free website for educators featuring standards-based health curricula, activities, and handouts. KidsHealth comes from Nemours, one of the nation's largest nonprofit pediatric health systems and a founding member of the Partnership for a Healthier America, a partner to First Lady Michelle Obama's Let's Move! campaign that mobilizes the nation to eliminate childhood obesity within a generation. For more information about KidsHealth, please visit KidsHealth.org.