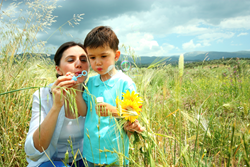 Fortunately, through her insightful, sustainable, memorable, and comprehensive program, Brenda Wollenberg has provided us with an extremely useful resource for addressing this issue practically and permanently.
LANGLEY, BC (PRWEB) May 23, 2016
Overweight and obesity in children can be hard on parents, hard on family relationships, hard on friendships and hard on the budget, but most of all, it can be hard on the child carrying excess weight. And doing what we have been doing—calorie counting, artificial sweetener use, packaged diet food—isn't making a dint in childhood obesity statistics or making it easier for overweight children to get healthier.
Time for something completely different!
What if a proven, safe, simple and sustainable family wellness and weight loss program was naturally and easily in reach?
What if it was affordable, tasty and enjoyable, and worked in a busy household?
What if that program covered all the primary factors that contribute to childhood obesity?
What if it really worked?
Sound too good to be true? It's not. Just ask Lyne P. one of our In Balance moms: "The principles in this program saved my family! We have changed to eating whole foods, lost the sugar and everyone is happy and healthy! The upside . . . I have also lost a ton of weight."
Or Dave, a Kids in Balance dad: "Big shout out to Brenda and her team for being such a great influence and fountain of nutritional knowledge for our family! Making healthier and well-informed choices one day at a time has made a huge positive impact in our family! We have, and are, experiencing huge improvements in not just energy levels and waistlines, but especially in all of the kids' recent academic achievements! If you haven't participated in all of the goodies Brenda and her professional team have to offer, I highly recommend you stop procrastinating and get on it!!"
Check in with Jonathan Bailor, as well. Author of The Calorie Myth and lead researcher on the largest scientific analysis of health and fitness ever conducted, he feels that ". . . childhood obesity is one of the more significant and heartbreaking issues facing us today. Fortunately, through her insightful, sustainable, memorable, and comprehensive program, Brenda Wollenberg has provided us with an extremely useful resource for addressing this issue practically and permanently."
If Happy, Healthy Kids could be one of the best things to ever happen to your child, and indeed to happen to your whole family, why haven't you heard about our weight release programs?
Quite frankly because many experts are focused on the necessary but not as immediately practical area of research, have a singular approach (i.e. low fat) or have not moved beyond the one size fits all method of helping children release weight. And probably the biggest reason? Because in North America, the weight loss industry is big business. A simple, proven, back to basics and cost-effective way of regaining health generates multiple benefits for an overweight teen or child but virtually nothing for the $65 billion a year weight loss and maintenance industry.
It's time to become knowledgeable about what we are up against, believe things can change and put empowered parents in charge. With an easily implemented, healthy diet plan and lifestyle program guaranteed to work simply and effectively for every family who follows it, we can work toward eliminating childhood obesity and creating increased family wellness.
If you haven't yet considered Happy, Healthy Kids—either the live or home learning version that completely details In Balance's wellness and weight release program—do so now. You will be absolutely amazed at how simple it is to virtually eliminate childhood obesity in your home.
Real food. Real bodies. Real health. One family at a time.
The Happy Healthy Kids program Brenda Wollenberg created and detailed in Overweight Kids in a Toothpick World cuts through the excuses and misinformation, and helps parents discover:

7 key reasons their child is overweight
7 B-A-L-A-N-C-E steps to healthy body weight
3 proven ways of personalizing an "Eat for Health" game plan
28 days of step-by-step guidelines that ensure weight release is healthy and easy.
At a time of unparalleled obesity rates, both childhood and adult, we are the only home-based weight loss program that provides a simple, safe, self-directed and online supported blueprint for English and Spanish-speaking parents who want to naturally create happy, healthy weight kids. To find out more about Happy, Healthy Kids, please visit http://www.inbalancelm.com and http://www.inbalancelm.com/hhkwellnesseapl.