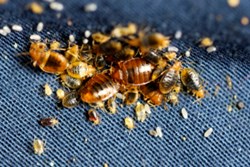 Bed Bug Bully offers a safe bed bug treatment because it doesn't contain harsh chemical ingredients.
Los Angeles, CA (PRWEB) September 19, 2013
To be able to kill bed bugs, they must first be found. However, a study discovered that attractants for bed bugs are not really effective in drawing out the pests, a report from centralvalleybusinesstimes.com stated. So, My Cleaning Products suggested a different method to expose and get rid of the pesky insects.
According to the report, which was posted on September 17, 2013, the study was that of the University of California, My Cleaning Products related. Its result, it detailed, revealed that the attractants enticed only 10 percent of the blood-feeding critters.
In the report, it was said that the finding of the research was written by the University of California scientists from UC Cooperative Extension, UC Berkeley and UC Riverside in the July-September issue of California Agriculture, MCP shared. It explained that California Agriculture was the journal of agricultural, natural and human resources of the university.
The report specified that the study tested three commercial monitors to obtain the results, added MCP.
Below is a part of the post Attractants for Bed Bugs Not So Attractive by My Cleaning Products.
"The first step to bed bug elimination is bed bug detection. After all, how could you get rid of those critters if you don't know they're in your place?"
"For that purpose – bed bug detection - were attractants for bed bugs invented. With their help, you could lure those vampire-like crawlies to the monitors and have their presence known. And in effect, that gives you an opportunity to kill them easily and quickly."
To detect bed bugs is the first step to eliminate them, said My Cleaning Products. However, given the finding of the research, it warned the public that bed bug attractants are not the best help to expose and get rid of those critters quick.
While it's true that manual inspection takes some time and work, it recommended it instead. As it pointed out, it shows how big or small the infestation truly is. That, it added, tells whether it's best to hire a bed bug exterminator or implement a DIY bed bug treatment.
Nonetheless, if it's personal bed bug elimination that is most-appropriate in a certain case, MCP advised the public to use an organic bed bug spray. And because Bed Bug Bully is exactly that, it suggested its use over all the other products.
As it detailed, Bed Bug Bully offers a safe bed bug treatment because it doesn't contain harsh chemical ingredients. It also assured that it is effective stating that hotels, hospitals and pest-control companies have already proven it efficiently works.
Moreover, the company urged the public to try it. It said that's so everyone could prove that it is truly effective and safe. And as it shared, the Bed Bug Bully Complimentary Samples are available at MyCleaningProducts.com.