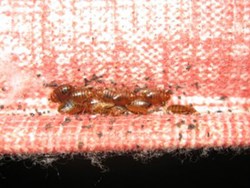 It [Bed Bug Bully] could kill bed bugs effectively, even their eggs and nymphs, it assured, without posing risks to health and the environment.
Jersey City, NJ (PRWEB) October 01, 2013
Bed bugs have infiltrated University of Princeton. According to a report from dailyprincetonian.com, those pests even got four of its students recently relocated not just once but twice. And stating that the vampire-like critters could indeed be that stubborn to eliminate, My Cleaning Products shared some tips how to completely kill bed bugs for real.
Based on the report, which was posted on September 29, 2013, the infestation particularly took place at Rockefeller College's Holder Hall, My Cleaning Products related. And as it detailed, the first evacuations that it prompted specifically happened on September 13 followed by the second one on September 27.
The affected spot, as stated in the report, was actually a suite in the hall, said MCP. It relayed that it was occupied by four students, all of whom were transferred to single rooms in 1915 Hall, Butler College twice due to the infestation. The room as treated by an exterminator and the students' belongings were exposed to high a temperature twice as well to resolve the problem, it added.
Here is an excerpt from the post Bed Bugs Get Into Princeton University by My Cleaning Products.
"Yet again, bed bugs penetrated and pestered another university. This time, they got Princeton University in New Jersey."
"Particularly, those tiny vampire-like critters infested a suite in the campus' Holder Hall in Rockefeller College. The room is occupied by four students. And as it was reported, all of tem were evacuated following the discovery of the pests' presence."
My Cleaning Products commented that the bed bug incident in Rockefeller College showed that the infestation of those critters could indeed be hard to eliminate. That is why, it said, they must be eliminated while their number is still manageable.
But to do that, it pointed out that one must first detect bed bugs. Moreover, it stated that one must also have a bed bug spray prepared. It said that with a product within reach, one could kill bed bugs right after they are detected.
However, of all the bed bug sprays, MCP asserted that Bed Bug Bully is the best. It reasoned that it's because it is pesticide-exempt. It explained that it is unlike all the pesticides because it is made with organic ingredients. It could kill bed bugs effectively, even their eggs and nymphs, it assured, without posing risks to health and the environment.
To prove that true, it even announced that they are still giving out samples of the product. And as it detailed, those Bed Bug Bully Complimentary Samples are available at MyCleaningProducts.com.