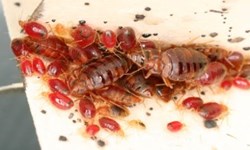 ...to ensure that the bed bug treatment is effective and safe, it recommended the use of Bed Bug Bully instead.
Richmond, VA (PRWEB) December 20, 2013
Bed bugs recently got a man from Virginia hospitalized. And stating that those critters could do the same to anyone else, My Cleaning Products then gave out a tip how to kill bed bugs quick to help the public.
In a report dated December 16, 2013 from wavy.com, the man who landed in the hospital because of the critters was identified to be Robert Malcolm, My Cleaning Products shared. It detailed that the stress the critters added to his already weakened heart caused his hospitalization over the weekend.
According to the report, Malcolm had to deal with crawlies every night at the motel where he was living, giving him scars from the bed bug bites all over, MCP relayed. And though he informed the management about the pests several times, he said that the problem was never resolved.
The management though, as said in the report, stated that Malcolm never complained about it. Additionally, they stated that his was just recently treated.
Here is an excerpt from the report Man Landed in Hospital Due to Bed Bugs by My Cleaning Products.
"Bed bugs do not transfer diseases. Nevertheless, they sent a man from Virginia to a hospital over the weekend.
Robert Malcolm is a Hampton resident who has been staying in one of the city's motel. But instead of a good night rest, he got bed bug bites from the place. The problem over the critters stressed him out worsening the condition of his already weakened heart, thus, the hospitalization."
My Cleaning Products relayed that bed bugs don't transmit diseases. Nevertheless, like they did to Robert Malcolm, they could send people to the hospital for various reasons.
Because of that, MCP stated that everyone must be able to kill bed bugs promptly if ever they get past one's preventive steps. To do so, it said, would prevent them from multiplying and causing worse problems.
Nonetheless, when getting ready to eliminate bed bugs immediately, one must carefully pick his or her bed bug spray, MCP stressed. Most of the pesticides today, it stated, contain harmful chemicals that could harm a person's health and further pollute the environment.
And so, to ensure that the bed bug treatment is effective and safe, it recommended the use of Bed Bug Bully instead. It relayed that hotels, hospitals and pest-control companies had already proven that it is efficient. Moreover, it relayed that EPA had already added it on its FIFRA 25(b) list.
To try it out, MCP shared that Bed Bug Bully Complimentary Samples are available for everyone at MyCleaningProducts.com.