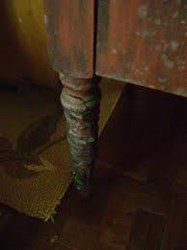 Without compromising anyone's health, it stated that they[Molderizer and Safe Shield] could kill mold fast and prevent its return effectively.
Jackson, MI (PRWEB) August 22, 2013
Besides residences, the recent heavy rains made schools vulnerable to mold. East Hills Middle School was one of those campuses badly affected by it as a report from lehighvalleylive.com stated. In response to it, My Cleaning Products shared a tip how to kill mold fast without compromising anyone's health.
According to the report, the mold in East Hills Middle School in Bethlehem Area School District was discovered on August 13, My Cleaning Products related. And as it detailed, it affected 28 of the school's classrooms with most of its damage directed armchairs and desks.
To resolve the problem, it was said in the report that the school board decided to hire a mold contractor for a mold removal service costing not more than $80, 000, MCP shared. The clean-up, it relayed, was done from August 16 up to 18.
But though the mold remediation effectively reduced the mold levels in the classrooms, MCP stated, based on the report, that they were re-scheduled for another treatment. The district said that it was a precautionary measure to decrease the residual mold, it added.
Below is a part of the post Mold Infest 28 East Hills Middle School Classrooms by My Cleaning Products.
"The unusually wet summer made mold a huge concern these past few months. And among those places that it directly affected, besides residences, are campuses."
"East Hills Middle School is one of those schools that got it bad from mold. 28 of its classrooms were mold-infested with the damages mostly directed to their desks and armchairs."
My Cleaning Products said that the downpours since the past few months have indeed made mold a big problem to many. And as it said, if not addressed promptly and effectively, its presence could cause a big trouble as it did to East Hills Middle School.
Because of that, it advised the public to always be on the look out for mold signs. It also said that its detection must be followed by a prompt mold remediation.
However, between hiring a mold contractor and implementing a DIY mold treatment, MCP recommended the latter if the infestation is not more than 10 square feet. As it stressed, personal mold removal makes the treatment much less expensive.
Of the many products for the process though, the company only recommended Molderizer and Safe Shield. That's because it is organic-based. Without compromising anyone's health, it stated that they could kill mold fast and prevent its return effectively. That, it asserted, makes them both the perfect mold removal sprays.
To back up those claims, MCP also announced that it would be giving out samples of the products. It detailed that the Molderizer and Safe Shield Complimentary Samples would be available for anyone at MyCleaningProducts.com.