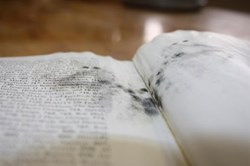 It specified though that Molderizer and Safe Shield are the two best mold removal sprays to use in a DIY mold removal process.
Chapel Hill, NC (PRWEB) September 13, 2013
The unusual wet summer left Chapel Hill High School with a big problem. According to a report from wral.com published on September 11, 2013, it particularly caused the school some 15-20 thousands worth of a mold problem. Saying that such big mold remediation expense could be avoided, My Cleaning Products then introduced a cheaper method to kill mold.
As stated in the report, the fungus was discovered last week, particularly, in the library of Chapel Hill High School, My Cleaning Products shared. And because of it, it detailed that 25,000 books were set for a mold treatment.
To allow the mold clean-up to take place, the report said that the library was temporarily shut down, related MCP. However, it added that it was not yet determined, when it would open again.
Meanwhile, to keep the air in the campus dry and prevent worse mold problems, MCP relayed, based on the same news post, that the school already started to run its air conditioning and heating systems. The district officials too, it stated, planned for renovations.
Below is a part of the post Mold Closes Chapel Hill High School Library by My Cleaning Products.
"This year's summer was unusually rainy. Because of that, mold problems were prevalent not just in residences but also in campuses. Chapel Hill High School was one of those schools that suffered big from the fungus' presence."
"A report from wral.com said the campus' library was particularly the area that mold contaminated badly. So, to protect students and staff, it was temporarily closed to give way to the mold removal treatment. However, it wasn't specified when it would be completed."
My Cleaning Products stated that there are a lot of health risks that come with mold presence. So, it is essential to kill mold as soon as possible, it said.
There are common mold removal methods that MCP determined in its post. However, of them, it identified the use of mold removal spray as the one most cost-effective to implement in a mold infestation not more than ten square feet.
It specified though that Molderizer and Safe Shield are the two best mold removal sprays to use in a DIY mold removal process. And as it reasoned, that's because apart from being inexpensive, they are also both effective and safe.
It elaborated that hotels, hospitals and mold removal companies have already proven that Molderizer and Safe Shield effectively work. And because they are made with organic ingredients, it said that it is a given that both are safe for health and the environment.
The company encouraged the public to try the two of them to prove their benefits. And as it detailed, one could get them, Complimentary Samples of Molderizer and Safe Shield, at MyCleaningProducts.com.