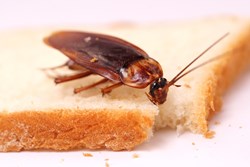 Roach Bully is pesticide-exempt...though it's in a form similar to any other insecticide, it works differently because of the absence of chemicals in its content.
Milwaukee, WI (PRWEB) October 04, 2013
Cockroaches were discovered in a Milwaukee food establishment. And according to a report from jsonline.com, it prompted the shut down of the said restaurant. So, stating that those pests could cause a similar or even a worse pest problem to any place, My Cleaning Products recommended a pesticide-exempt product to kill roaches right.
Based on the report, the infested restaurant was Brown's Hospitality Cafe located at 3528 W. Fond du Lac Ave, My Cleaning Products related. Its closure, it detailed, lasted for four days, which started on September 19th.
The restaurant's manager, Ensley Brown, said in the report that cockroaches were not a problem in the place in the past, MCP shared. And so, he stated that he did not know where they could have come from, it relayed.
To resolve the issue for good, the news article stated that the exterminators came up with a plan, MCP added. As it shared, that plan is to basically spray the restaurant, including its basement, until all cockroaches are eliminated.
Below is an excerpt from the post Roaches Close Down a Milwaukee Restaurant by My Cleaning Products.
"With all the bacteria that cockroaches carry, they could contaminate food easily. Hence their presence in a kitchen or any place where food is handled is a big no-no.
However, a restaurant in Milwaukee failed to hold them off from the building. And so, the health department closed the establishment temporarily."
Though spraying an insecticide could kill roaches, My Cleaning Products said that they could also harm a person's health and even the environment with their harsh chemical ingredients. And so, instead of them, it recommended the use off Roach Bully to eliminate cockroaches effectively and safely.
MCP stated that Roach Bully is pesticide-exempt and was even classified by EPA as such under FIFRA 25(b). It explained that though it's in a form similar to any other insecticide, it works differently because of the absence of chemicals in its content. Unlike them, it cited that it emits no odor or residue that could harm anyone's health.
Besides that, it said that it also makes the elimination easy and fast. And with it already prepared, it added that it also could have anyone complete a prompt roach treatment that prevents a massive infestation of them.
To get Roach Bully and start killing cockroaches fast and safe, MCP said one just needs to order it at MyCleaningProducts.com.