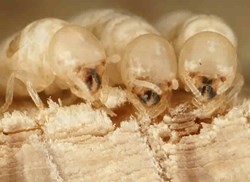 ...Termite Bully is not just like other pesticides...it is organic-based...But even without harsh chemicals in its content... it is effective.
Tampa, FL (PRWEB) September 20, 2013
Problems on termites have been recently increasing, especially in Florida. And according to a report from wtsp.com posted on September 12, 2013, one pest-control exterminator suspected that it was the summer's rain fault. Wanting to help the residents and other victims kill termites right, My Cleaning Products then recommended an organic-based product.
The exterminator said in the report that the rain moistened the ground and made it easy for, specifically, subterranean termites to move from place to place, My Cleaning Products shared. Also, it added that the downpour soaked the woods, which supplied those insects more foods.
In the report, that pest exterminator was identified to be Jeff McChesney of a local pest-control company, detailed MCP. It relayed that he was in the said industry for more than 20 years already.
However, the news article suggested that other pest experts had a more specific view about rain causing the increase of termite problems, related MCP. As they said, the downpour more like raised the activities of the termites than their number, it elaborated.
Here is an excerpt from the article Rain Possible Cause of Termite Problem Increase by My Cleaning Products.
"Pest control companies said that they were receiving more calls about termites than ever before. And that is especially true in Florida. But could rain be one of the reasons behind the increase?
A termite exterminator in one local pest-control company believes that the downpours really got something to do with the growing termite problems. His name is Jeff McChesney. He's been in the pest-control business for 20 years but said that he had never seen more termites than today."
My Cleaning Products said that termites could cause a huge damage even before they are discovered. Based on the report, it shared that it could be as high as $8000. Because of that, it said that one must take steps to discover them early. And the solution to that, it stated, is regular inspection.
However, termite treatment doesn't end there, it said. The inspection, it asserted, must be followed by termite elimination. And to make it inexpensive, effective and safe, it recommended a DIY pest-control with the use of Termite Bully. However, it stressed that personal termite elimination must only be implemented if one is sure that he could handle the work.
As MCP stated, Termite Bully is not just like other pesticides. And primarily, that's because it is organic-based, it explained. But even without harsh chemicals in its content, it assured that it is effective.
Sharing that it will be out next week, it also encouraged the public to watch out for it. And as it detailed, once officially released, it will be available at MyCleaningProducts.com.