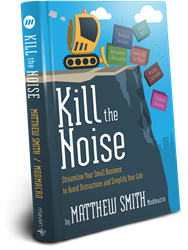 "I am passionate about seeing small businesses succeed and think this book can be a great reference for small business owners in almost any industry."
Menifee, CA (PRWEB) June 09, 2015
Modmacro CEO Matthew Smith announced this week the release of his latest book, Kill the Noise, which had an official launch date of June 1st, 2015. The book is now available through Amazon and other popular retailers in paperback, Kindle and Nook formats. It was published by Maven Publishing USA, a boutique publishing house of non-fiction work.
The premise of Kill the Noise is that small business owners need to develop discipline and focus on what it is they truly do best, so that they can avoid distractions, wasted time and unproductive side projects, which is what the book identifies as "the noise." By learning to identify and kill the noise, small businesses can operate more efficiently with a simpler model. The book includes practical examples and personal stories that apply to small businesses of nearly all types.
Author Matthew Smith said of the book's publishing, "I am excited that the book has reached the marketplace! The idea for Kill the Noise has been in my head for a while, so it is gratifying to see the finished product. It is my hope that the small business community will take its message to heart and adopt some of the principles I lay out in the book. I am passionate about seeing small businesses succeed and think this book can be a great reference for small business owners in almost any industry."
Kill the Noise was made possible with the support of company sponsorships by Writer and Author Christina DeBusk, BM Windows, Inc. of San Diego, and M. Grisafe Architects of Long Beach, CA.
For more information about the book, the sponsors and retail availability, please visit http://kill-the-noise.com/.
About Modmacro, Inc.
An award-winning web design and marketing firm, Modmacro partners with select small businesses to strategically grow their companies. The firm's integrated marketing approach is based on a healthy mix of original creativity (design), visual appeal (branding), authentic story sharing (PR), driving targeted traffic (SEO), original content creation, user experience design considerations (UX), and practical data insights (analytics).
Now in their fifth year, the firm delivers tailor-made marketing solutions whose results illustrate clear value to profit-minded decision makers. Through a simple, proven process, Modmacro's approach often challenges established thinking and reboots the status quo. The team invests in educating clients with the goal of developing lasting, partnership-level relationships that foster candid, productive dialogue.
About Maven Publishing
Maven Publishing is a boutique publishing house of non-fiction, making published authors of entrepreneurs, business people, and professionals, who are then superiorly branded and positioned by their books. They can be contacted through their website at http://maven-books.com.