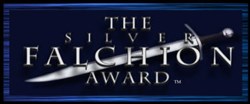 Nashville, Tennessee (PRWEB) October 28, 2013
For the past six years, the Killer Nashville Silver Falchion Award has been bestowed upon the author of the best book published that year by a registered Killer Nashville attendee. The winner was determined by the votes of the other attendees during the conference.
Now, for the first time and in response to numerous requests, Killer Nashville is accepting nominations from outside the pool of conference attendees. Any fiction or nonfiction book-length work published for the first time in 2013, in which a crime drives the storyline, may be nominated by either the publisher or the author of the book. Entries will be evaluated by judges, who will choose five finalists in each of the following categories: Best Novel, Best First Novel, Best Paperback, Best e-Book Original, Best Nonfiction, Best Juvenile, Best Young Adult, and Best Anthology. Winners will be chosen by 2014 Killer Nashville conference attendees.
"One of the objectives of Killer Nashville is to connect authors and readers. By opening the Silver Falchion to all writers of mystery, suspense, thriller, and true crime literature - including non-attendees - we are able to be of service to more authors and readers," says Killer Nashville founder Clay Stafford. "With over 24,000 visits monthly to our Killer Nashville website and a potential press release outreach of over 22 million per announcement, Killer Nashville is in the perfect position to give authors the shout-out they need."
E-books and self-published books are eligible, but the required four (4) copies (either through print on demand or in a bound galley format) must be provided for dissemination to the judges. Killer Nashville.
There is NO fee to submit a title for consideration.
To nominate a book for the Killer Nashville Silver Falchion Award, send four (4) physical copies to the following address no later than January 15, 2014:
Silver Falchion Award
P.O. Box 680759
Franklin, TN 37068-0759
Entry forms and complete guidelines can be found at http://www.killernashville.com/killer-nashville-silver-falchion-award-entry-form/.
The Killer Nashville Thriller, Mystery, and Crime Literature Writers' Conference, held annually on the fourth full weekend in August, was created in 2006 by author/filmmaker Clay Stafford to bring together forensic experts, writers, and fans of crime and thriller literature. The conference draws attendees from as far away as Portmahomack, Scotland; Rome, Italy; and Hadano, Kanagawa, Japan. For interviews or more information: http://www.KillerNashville.com, http://www.ClaymoreAward.com, Contact(at)KillerNashville(dot)com, 615-599-4032