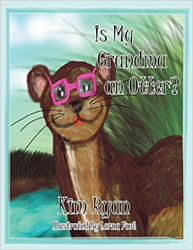 TANTALLON, Saskatchewan (PRWEB) October 14, 2015
In the whimsical new children's book written in verse by Kim Ryan, a boy wonders if his grandpa's stories are true. "Is My Grandma an Otter?" (published by Lulu) takes readers on an imaginative, illustrated journey as the narrator reconciles the similarities and differences between his grandma and an otter.
Depicting an everlasting bond between grandmother and grandchild, "Is My Grandma an Otter?" shares the musings of its young protagonist. The boy notices similarities between his grandma and an otter, leading the boy to believe his grandpa, who tells him that his grandma is actually an otter. As the boy pieces the puzzle together he begins to wonder: is he an otter too?
"Family bonds are so important," Ryan says. "It shapes who you are. The deep message of love, family and childhood memories will appeal to all ages."
An excerpt from "Is My Grandma an Otter?":
"Is my grandma an otter?
I'd like to know.
My grandpa says it's true;
He told me so."
More information is available at http://www.ismygrandmaanotter.com.
"Is My Grandma an Otter?"
By Kim Ryan
Softcover | 8.5 x 8.5 in | 26 pages | ISBN 9781483428901
E-Book | 26 pages | ISBN 9781483428888
About the Author
Kimberly Ryan earned a Bachelor of Education from the University of Regina. Her writing is inspired by family. "Is My Grandma an Otter?" grew out of a question asked by her son. She lives on an acreage outside Tantallon, Saskatchewan, with her husband and two sons.
Lulu empowers people of all ages to explore and express their interests, passions and expertise through books, photography and art. Since introducing self-publishing in 2002, Lulu has empowered creators in more than 225 countries and territories to produce nearly two million publications. Lulu Jr. allows children to become published authors, encouraging creativity, strengthening literacy and building self-esteem. Picture.com offers professional photography of collegiate and professional sports, memorable and historic events, fine art and home décor. For more information, please visit lulu.com.