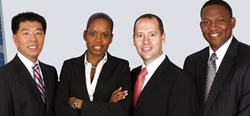 The pro bono aspect of our firm is what sets us apart.
Fort Lauderdale, FL (PRWEB) April 11, 2015
Pro bono is defined as doing professional, especially legal, work donated for the public good. It stems from the Latin pro bono publico, which literally means "for the public good." And that is a philosophy Kim Vaughan Lerner LLP takes to heart. The South Florida firm has, for a decade, been defined by its dedication to pro bono cases for the good of the public.
"With the backdrop of our 10 years serving business clients, I think the pro bono cases tell 'the rest of the story' about what our firm does between arguments over complex business disputes involving lots of money," said managing partner Jay Kim, "the one thing our pro bono clients do not have."
For example, Kim Vaughan Lerner helped many veterans that have been left to fend for themselves after serving their country. Featured in a Sun Sentinel article from January 28, 2015, Kim himself represented a single mother through four years of foreclosure proceedings until she received a $31,000 check after her home was sold at a foreclosure auction (Case No. 09-040208, Circuit Court of the Seventeenth Judicial Circuit in and for Broward County, Florida). He has also been honored by Legal Aid as Attorney of the Year and by the Florida State Bar Association for his pro bono contributions. "I was deeply honored to receive the recognition, but it's a team effort at Kim Vaughan Lerner," said Kim. "All of our attorneys are dedicated to pro bono work."
One such attorney is Brian Lerner, who has also been recognized for his pro bono work through Lawyers to the Rescue (Lawyer of the Month, June 2010), Daily Business Review, Most Effective Lawyers (Pro Bono Case of the Year, 2007).
In addition, Cherine Smith Valbrun was instrumental in organizing efforts to have all South Florida bar organizations participate in pro bono telephone hotlines for Legal Aid. "The pro bono aspect of our firm is what sets us apart," said Valbrun. "We are all looking forward to another 10 years serving the public."
Another of the firm's partners, Robert Vaughan, was recently instrumental in assisting a local candidate, Tyron Francois, in an election related dispute (Brinkmann v. Francois, Lower Case No.14-012324(09), Fourth DCA (Appeal) No. 4DCA14-2739). Mr. Francois, a write-in candidate for a local county commission seat was initially disqualified from the race based upon a local statute. Through the firm's efforts, the statute was later determined to be unconstitutional.
Kim Vaughan Lerner LLP is located at One Financial Plaza, 100 SE Third Avenue, Suite 2001, Fort Lauderdale, Florida 33394. For more information, please call 954.527.1115.
About Kim Vaughan Lerner LLP
Kim Vaughan Lerner LLP is a business litigation firm currently in its 10th year of representing clients with a range of legal concerns in the South Florida area. The firm focuses on complex business disputes faced by companies and individuals.
About NALA™
The NALA offers local business owners new online advertising and small business marketing tools, great business benefits, education and money-saving programs, as well as a charity program.
PR Contact:
news@thenala.com
805.650.6121, ext. 361