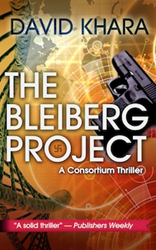 A fantastic series... lessons in humanity worth listening to. These books are amazing.
New York, New York (PRWEB) August 10, 2015
For a late-summer, action-packed read, David Khara's The Bleiberg Project will be available at a deep discount for a limited time only. Mystery and thriller publisher Le French Book is running a flash series discovery sale from August 10 to 13 on this first in series—the Kindle ebook will be available for 99 cents.
— Consortium Thriller Series —
A series for fans of Tom Clancy, Daniel Silva and Ian Fleming, Khara's Consortium Thrillers offer readers a potent mix of World War II history and modern-day intrigue, with a healthy dose of chase scenes, gunfights and explosions, espionage and subterfuge. They also provide a thoughtful, and even moving, look at how hope, laughter and resistance drive humanity, while asking what impact the folly of World War II—death camps, medical manipulation and chemical warfare—could still have today.
Written with a sharp style, The Bleiberg Project is a prizewinning, international bestseller with more than 130,000 copies sold. In it, Khara explores the consequences of the scientific research done by the Nazis and gets readers wondering if Hitler's atrocities are really over. It's an adrenaline-packed race to save the modern world from a wide-reaching conspiracy.
The second title in the series, The Shiro Project, looks at the outrages committed in Asia and the Pacific during the war. When yesterday's enemies become today's best allies, when mankind seems on the verge of repeating the errors of the past, what can a lone man do against the madness that is bound to follow?
The third title, The Morgenstern Project, Jeremy and Jacqueline are back, drawn out of their peaceful life into a race from London to Tel-Aviv, from the Polish forest to Manhattan high-rises, from a shameful past to a threatening future. A single man fights to protect his closest friends from the malediction that follows him relentlessly.
— Praise for the series —
"Fun, fast-paced thrillers."
"A must read for anyone who enjoys thrillers."
"The fight scenes are awesome."
"Riveting narrative."
"Page-turner."
"Addictive read."
"A thrill-a-minute romp."
"This is a terrific series."
Top author
French author David Khara, a former journalist, top-level athlete, and entrepreneur, is a full-time writer. Khara wrote his first novel—a vampire thriller—in 2010, before starting his Consortium thriller series. The first in the series, The Bleiberg Project, was an instant success in France, catapulting Khara into the ranks of France's top thriller writers.
About Le French Book
Le French Book is a New York-based publisher that brings France's top mysteries and thrillers to new readers across the English-speaking world. Its motto is: "If we love it, we'll translate it."
©2015 Le French Book, Inc. All rights reserved. Information is subject to change without notice.