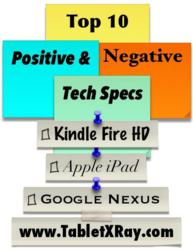 While most of the tech specs on the 8.9 inch Kindle Fire HD will blow you away, there are a few potential limitations that one must be aware of
Chicago, IL (PRWEB) July 04, 2013
There is no doubt that the 8.9" Kindle Fire HD has some great specs that make it one of the best tablet computers in the market. However, there are also a few limitations of this tablet that a buyer should be aware of before purchasing one. The recently published Amazon Kindle Fire HD 8.9" Review from http://www.TabletXRay.com/ discusses both the PROS and CONS of the Amazon tablet allowing one to make an intelligent decision as to whether it meets his or her personal needs.
The above review is different from some others that mostly address hardware specs. In contrast, this review goes in to detail about both hardware and software specs as well as details on the Amazon digital store. Whether it's a tablet computer like the Kindle HD, Apple iPad, Google Nexus or Samsung Galaxy tablet, or any other electronic device such as a 3D HDTV, the hardware aspect is only one half of the story. If the availability of content is limited, no matter how good the hardware is, the tablet PC as a whole has very limited value. What good would a 3D display be, if there is no 3D content/movies available? This is exactly why this review on http://tabletxray.com/kindle-fire-hd-8-9-review-the-hot-and-cold/ is a must read for anybody interested in buying a tablet computer, whether it's an iPad, Kindle Fire HD or any other.
One of the most talked about positive specs of the 8.9 inch Kindle Fire HD is its 1080p high definition display. Its resolution is only a touch lower than the resolution of the 9.7" iPad's retina display. The iPad boasts a resolution of 264 pixels per inch (ppi) while the Kindle Fire HD 8.9" version has an HD resolution of 254 ppi. According to experts, this difference is not something the naked eye can detect. An interesting point, according to the above review, is that the 7" iPad mini does not come with an HD display. In contrast, the 7 inch Amazon Kindle Fire HD does come with a high definition display. Further, the iPad mini does not have a 16:9 display ratio that is needed for properly viewing HD movies. Therefore, whenever an HD movie is viewed, in addition to poor resolution, the viewer also loses display area because the screen becomes letterboxed. This is one of the biggest benefits of buying a 7" or 8.9" Kindle Fire HD compared to an iPad mini. The comprehensive Kindle Fire HD vs iPad Mini comparison available on http://tabletxray.com/kindle-fire-hd-vs-ipad-mini-comparison/ addresses all the differences and similarities between the two tablets. This is also an extremely useful read for anyone interested in learning about the different specs of the latest tablet computers.
Another advantage of the 8.9" Kindle Fire HD tablet over the iPad is the cheap 4G LTE package that it comes bundled with. With the iPad or any other 4G LTE enabled tablet computer, 4G LTE monthly bills typically start at $15/month. However, with the 4G enabled Kindle Fire HD, this same 4G LTE package can be purchased for just $50/year. That's an additional $130 savings the first year alone.
In addition to the above Kindle Fire HD 8.9" Review, they also have a detailed review on the 7" Amazon Kindle Fire HD tablet that addresses the Top 10 Pros and Cons. These are very useful reviews for anyone interested in purchasing an Amazon Kindle Fire or any other android or Apple tablet.