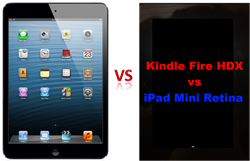 Many Kindle Fire vs iPad mini comparisons Mislead the consumers because they Fail to compare the PROS and CONS of the content eco-systems and operating systems.
Chicago, IL (PRWEB) October 26, 2013
The newest Kindle Fire HDX range from Amazon and the new iPad Mini and iPad Air tablets from Apple are bound to be two of the most popular electronic devices of 2013/2014. With every new generation, the technology gap between them seems to get narrower and narrower making it harder and harder for the consumer to choose between the two. Is Amazon's Kindle Fire HDX the better tablet or is Apple's iPad Mini with Retina display/iPad Air the better of the two? The Amazon Kindle Fire HDX vs iPad Mini comparison from TabletXRay.com analyzes this problem in a comprehensive and unique manner.
Why Some Comparisons are Flawed:
According to http://TabletXRay.com/, many existing Kindle Fire vs iPad comparisons are flawed because their emphasis is on comparing hardware specs. They neglect to compare Pros and Cons of the content eco-systems, and operating systems. Such one-dimensional comparisons that emphasize hardware specs can mislead a consumer into buying the wrong tablet.
The 5 most critical Specs discussed include thorough comparisons on 2 major hardware features, operating systems, content eco-systems/digital stores and tablet prices.
Pros and Cons of the Content Eco-Systems Emphasized:
According to http://TabletXRay.com/Kindle-Fire-HDX-Vs-New-Apple-iPad-Vs-Google-Nexus-Spec-Comparison/#CRITICAL-Specs, one of the most important features of a tablet comparison, be it Google Nexus vs iPad or iPad mini vs Kindle Fire, is comparing the content eco-systems that feed them. An ultra-high resolution 4K HDTV is of no use if high definition movies/TV shows are not available. A Kindle Paperwhite eReader or a Barnes and Noble Nook eReader would be of limited value if the respective eBook stores had a limited library of ebooks to choose from. This is why the above review that compares prices, library size, cross-compatibility with other devices, availability of free content etc. of music, movies, TV shows, apps and ebooks across the Amazon digital store, Apple iTunes store and Google Play store, is of immense importance.
Not Every Hardware Spec Needs to be Religiously Compared:
When it comes to hardware, there are dozens of specs one could compare such as the CPU (e.g. 2.2 GHz quad-core Qualcomm Snapdragon 800 vs 1.3 GHz dual-core A7 processor), RAM (e.g. 2GB memory), GPU (graphics processor), display (e.g. HD resolution, color accuracy), battery life, front and rear camera quality, availability of a micro SD card slot, Wi-Fi and 4G LTE connectivity, weight, thickness etc. However, only a handful of these specs are important when choosing the Kindle Fire HDX or iPad Mini. For example, although tablet manufacturers give a lot of emphasis to the quality of rear cameras (e.g. 5 mega pixels vs 8MP camera), it has very limited value for a tablet computer in day-to-day life. Unlike the front camera that is meant for video chatting, the rear-camera is meant for photographing objects/people in front of the tablet user. Carrying around a 7 – 10" tablet for taking photographs does not make one look intelligent, especially when a 4-5" smartphone is capable of doing that in style. This is why it is crucial to identify the critical hardware specs that are worth comparing in a Kindle Fire vs iPad comparison.
The Prices Compared on 2 side-by-side Tables:
The battle of the prices is easily won by the Amazon Kindle Fire HDX. While the 7" Fire HDX is $170 to $320 cheaper than the new iPad Mini 2 with Retina display, the 8.9" Kindle Fire HDX is $120 to $250 cheaper than the Apple iPad Air, depending on the storage capacity. The ASUS Google Nexus 7 also has a similar price-point to the Kindle tablets.
5 Specs of Minor Importance also Compared:
In addition to the Critical Specs, they have also published a comparison of 5 minor specs which are not so critical in making the purchasing decision, nevertheless important to be aware of before deciding between the two tablets. In addition to the Kindle Fire HDX vs Apple iPad Mini comparison, they also list the TOP 5 Limitations of the Fire HDX tablet on http://TabletXRay.com/Kindle-Fire-HDX-Limitations/ which is an essential read for anyone looking to buy an android or iOS tablet this year.