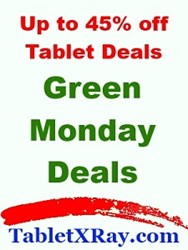 If you missed Black Friday and Cyber Monday Tablet Deals, this may be the last chance this holiday season
Chicago, IL (PRWEB) December 09, 2013
Similar to Black Friday and Cyber Monday 2013, many tablet deals have been announced for December 9th, Green Monday 2013. Tablets on sale include the Amazon Kindle Fire HD and Fire HDX, Apple iPad, Samsung Galaxy Tab 3, Lenovo Ideatab, ASUS MeMO Pad and Vivotab, Acer Iconia, Lenovo, Tivax MiTraveler, HP 7" tablet with Intel Atom processor and kid's tablet computers such as the LeapFrog LeapPad2. Up to 45% price cuts have been announced on some of the above tablets.
All Current Holiday Deals on Tablet Computers can be accessed on http://TabletXRay.com/Holiday-Deals/.
Of the tablet computers on sale, the Green Monday Kindle Fire HDX deals deserve special mention. They went on sale on Cyber Monday as well, however, the deal on the budget Amazon Kindle Fire HD 16GB model sold out very early on with some consumers not being able to take advantage of it. Those consumers should feel relieved today because the same tablet is on sale today. However, the discount is not as steep as that seen on December 2nd Monday. However, given that it is still a substantial price cut, it's advisable that anybody looking to purchase this model this holiday season grab it today before the deal expires again.
In addition to the Kindle Fire HD 8.9" and 7 inch models, the Apple iPad has also been discounted today. However, this is not the latest 5th generation iPad Air and not recommended for the price on offer. In addition to the 2 most popular tablets, that is the Amazon Kindle Fire and the Apple iPad, the prices of Android tablets from Samsung, ASUS, HP, Acer, Tivax and Lenovo etc. have also been dropped. Again, their price cuts are not as big as they were last week. Given that the main sales events are already over, whether these will receive any bigger discounts is doubtful.
In addition to publishing Green Monday Kindle Fire HD and other tablet deals, they have also published several reviews on the Kindle Fire range of tablets and Apple iPads. Further, they have compared the above tablets with the Google Nexus 7 and Nexus 10. These are useful reading material for anybody considering buying or gifting a tablet computer this 2013 holiday shopping season.