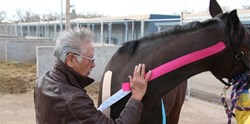 Philadelphia, PA (PRWEB) October 16, 2013
Human athletes are not the only ones to benefit from Kinesio Taping. Winter is approaching in several parts of the world and October is a great opportunity to address equine aches and pains. More and more horse owners are discovering that Kinesio Tape has many advantages in equine use, as well. Since only certified professionals can use this taping method, owners know that their horse will be properly taped for maximum support with full range of motion. Sources include Kinesio Taping Association International, http://www.kinesioequine.com, and http://www.orthoco.com.
Who Can Apply Kinesio Tape for Equines?
Veterinarians who wish to become certified in Kinesio Taping for Horses must have the authorization to practice within their home country. They must have been in practice for one year or more and have a license or a degree.
Animal therapists must be trained specifically in the equine field. They should be certified as an animal physical therapist, or have a similar certification, and at least two years of practice since certification.
Equine chiropractic practitioners must have training specifically for horses and have a certificate that proves this. Likewise, an animal-certified doctor of osteopathy must provide a license or degree.
Equine massage therapists will need a certificate of completion of 300 hours in the field, and 50 of these hours must cover anatomy. They should have at least three years of practice since receiving their certificate. They also must be referred by a licensed doctor of veterinary medicine.
Animal physical therapists and veterinary technicians must be certified in the equine field. They, too, must show 300 hours of practice and 50 hours must be in the area of anatomy study. If they do not hold a degree, they need to submit letters of recommendation from a veterinary doctor or V.M.D.
Veterinary students who are in their last year can apply for eligibility for the KTE1 and KTE2 courses. The KTE3 course must be taken within a year after graduation.
Students in programs specifically designated as equine massage therapy, osteopathy, chiropractic and animal physiology will not be accepted for training until they have their degree or license.
What Type of Training is Required to Become an Equine Kinesio Taping Practitioner?
The KT Equine 1 course is the introduction for potential practitioners of the Kinesio Taping Method for Equines. This is an eight-hour course which is taken along with KTE2. This course:
1. Introduces equine animal practitioners to the Kinesio Taping Method as it applies to horses.
2. Allows students to learn the concepts of Kinesio Taping and the uses and properties of Kinesio Tex Tape Gold FP and other Kinesio tapes.
3. Uses lab sessions for students to practice applications on equine patients.
4. Gives attendees the information needed to discuss and then apply the Kinesio Taping Method to horses, to reduce swelling and pain, stimulate weak muscles and relax over-used muscles.
The KT Equine 2 course teaches students the concepts and techniques for horses. It builds on the materials that were learned in the first phase of equine-specific training. Students will learn the five proper corrective taping techniques and talk about the proper applications in different clinical conditions. This course also includes a workbook and a 60-day Kinesio Taping Association International (KTAI) trial membership.
The KT Equine 3 course builds on the base of the first two courses. It gives students extra time for actual application. The instructor will discuss equine-specific issues and upon completion, students will be able to request and then take an exam so that they can become a Certified Kinesio Taping Practitioner for Equines, also known as CKTP-E.
Information About Kinesio Taping Equine Courses: http://www.kinesioequine.com
Information About Kinesio Tape Products: http://www.orthoco.com