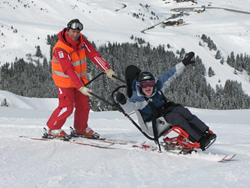 Vision into Action is everything that Kinetic Consulting does. To help Ski 2 Freedom make the vision of the mountains become a reality for more people with a disability or additional needs will be brilliant
Geneva, Switzerland (PRWEB UK) 13 October 2014
Kinetic Consulting Founder, Will Hogg, is delighted to offer his company's expertise in assisting Ski 2 Freedom Founder, Catherine Cosby, in her relentless drive to make Ski 2 Freedom the go-to knowledge experts in this area. Will said: "Vision into Action is everything that Kinetic does. To help Ski 2 Freedom make the vision of the mountains become a reality for more people with a disability or additional needs will be brilliant".
Specifically, Gus Newby Grant will be working closely with the foundation. On joining the Ski 2 Freedom team Gus said: "I am inspired by the work that Ski 2 Freedom does, what it stands for and all that it has achieved to date. The stories and testimonials of benefit to individuals and families are truly remarkable and the tangible difference to people's lives as a result of this work is clear".
Gus has been a Kinetic Consultant for the last 5 years. Before that, he served in the British Army where his last role was training cadets at the Royal Military Academy Sandhurst. Gus continues: "I am a firm believer that with the right and timely guidance combined with daring to believe, there are no limits – anything is possible. To be part of this committed team that opens up opportunities, changes mindsets and reassures those who may not have considered that mountain activities were even in the realms of the possible is just fantastic".
Catherine Cosby, Ski 2 Freedom Director and Founder said: "Ski 2 Freedom has proved that our charitable work is a much-needed resource. Now we need to move forward with a strong business strategy and fundraising mechanism in place. To have been selected by Kinetic is a dream come true. I feel so happy now that we will be able to ensure we can meet the expectations and dreams of so many young and older people whose lives are affected by disability, additional needs or life-changing conditions via mountain activities. With such expert help now on hand I feel confident about our future!"
About Kinetic Consulting
Kinetic Consulting Ltd., headquartered in Geneva, Switzerland, is a Strategy and Organisational consulting group with the conviction that strategy must be rooted in a deep understanding of the current situation and inspired by a compelling vision of the future. They have a consistent track record in delivering market place results, partnering and operating with the biggest global companies and industry leading multi-nationals, SME's and associations / NGO's to develop strategic choices, build organisational capability and ensure pragmatic execution at all levels. Kinetic's real world expertise and tailored approach are standouts in the industry and deliver sustainable competitive advantage to their clients. For more information, visit http://www.kineticconsulting.com
About Ski 2 Freedom
Ski 2 Freedom is a registered British charity (no. 1151307) that provides comprehensive information on snow-sport and mountain activities through close liaison with ski schools and resorts worldwide – with specific focus and current expertise in Europe. Their unparalleled knowledge of these regions form the perspective of and requirements for people affected by disability, special needs, life-challenging illness or who have suffered trauma, mean that they can tailor advice and opportunities to every individual case, even if it is simply offering reassurance that the empowering benefits of a winter sport holiday can still be or become part of the journey back to recovery. For more information, visit http://www.ski2freedom.com
.
LinkedIn : http://www.linkedin.com/company/kinetic-consulting-ltd
Website : http://www.KineticConsulting.com