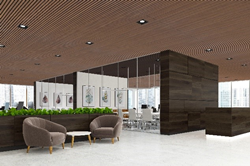 When you pair stellar acoustics with an attractive and sustainable product, you get something pretty special, and we feel we have that with kWood.-Benjamin Hickey, Kinetics Director of Sales for the Room Acoustics and Home Markets
DUBLIN, Ohio (PRWEB) November 09, 2022
Kinetics Noise Control Inc. (Kinetics), a Catalyst Acoustics Group company, is pleased to announce the latest addition to the kleen product line: kWood, an absorptive ceiling and wall treatment. Consisting of linear lengths of wood secured to Kinetics' black polyethylene terephthalate (PET) felt backing, kWood marries acoustic function with aesthetics.
kWood can be mounted horizontally or vertically, creating maximum opportunities for design expression. kWood panels ship installation ready in standard sizes of 24" W x 96" L x 0.87" thick, but can be modified in the field to custom sizes, if desired.
Benjamin Hickey, Kinetics Director of Sales for the Room Acoustics and Home Markets, spoke enthusiastically of the launch sharing, "We've long seen a lot of success with our Acoustical Wood collection as well as our kleen family of recycled PET products." He added, "it just made sense to combine the two. When you pair stellar acoustics with an attractive and sustainable product, you get something pretty special, and we feel we have that with kWood."
kWood is available in four real wood veneer color ways: Light Oak, Medium Walnut, Dark Oak, and Grey Wash Oak.
Learn more about kWood and the entire kleen line of products by visiting the Kinetics website: kineticsnoise.com/kleen/kwood
###
About Kinetics Noise Control
Established in 1958 as industrial consultants focused on controlling sound and vibration, Kinetics now produces the industry's largest selection of products and solutions that control airborne noise, isolate structure-borne vibration, enhance room acoustics, create quiet spaces, and restrain non-structural building systems.
About Catalyst Acoustics Group
Catalyst Acoustics Group is the parent company of an elite group of acoustic, seismic, vibration and noise control companies that together, offer the broadest portfolio of noise control solutions in the market today. The independent brands, channels to market, products and services offered by each business remain unique, while leveraging the scale, deep functional expertise, broad channel reach and significant financial resources.