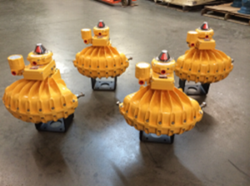 It's exciting when a new product reduces costs, increases competitiveness and improves efficiency for customers.Greg Mitchell General Manager Kinetrol USA
(PRWEB) September 24, 2014
The new Kinetrol (http://www.kinetrolusa.com) model 15 actuator bridges the large torque output difference between the model 14 and 16 actuators, consumes almost 30% less air per stroke than the model 16 actuator, is internally ported for NAMUR solenoid valve mounting, and allows direct mounting of Kinetrol positioners and switches.
Technical information regarding the new size 15 pneumatic actuator will not be available on our website for 6-8 weeks. For detailed information, please contact Kinetrol USA at 972-447-9443.
About Kinetrol
Kinetrol manufactures the most comprehensive range of high performance pneumatic double-acting and spring-return rotary vane actuators in the world. In addition, Kinetrol also manufactures a full range of positioners, limit switch boxes, fail-safe and fire fail-safe spring units, I to P transducers, gearboxes and other engineered products from foundry to finished goods in our own ISO 9001-2008 certified factories. Every actuator is pressure tested.