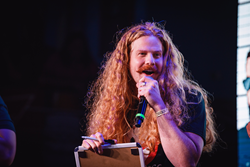 ST. LOUIS (PRWEB) March 23, 2020
Popular radio personality King Scott of the #1 morning talk radio show in St. Louis, the Rizzuto Show, has been waiting 38 years to lose his virginity. Radio listeners know him as the virgin associate-producer who has finally found his perfect match.
His virginity was actually a "guest" on the show as his colleagues helped coach and guide the innocent King on his way to his wedding night. The buildup has been so great that the Rizzuto Show hosted a giant bachelor party with 7 different stops across St. Louis, culminating at concert venue Pop's followed by the final stop at The Last Hotel to launch him in style into the world of marriage.
His wedding day is scheduled for March 28, right in the middle of unprecedented quarantines and mandatory social distancing. But King Scott and his bride Allison aren't letting a quarantine get in the way of this highly anticipated marriage. After debating whether or not to cancel, they have decided to go ahead with their guest list – virtually.
They've posted their updated invitation online: "You're invited to watch the Royal quarantine wedding of Allison & King Scott. To protect your health and to honor the necessary safety measures, we are now live streaming our wedding instead of meeting in person. Be our virtual guest by tuning in to @kingscottrules on Facebook or Instagram Saturday, March 28 @ 3 PM."
And they've invited all their guests to still dress up with them: "Join in on the wedding fun! Wear your formal attire at home and share photos with the hashtag #ROYALQUARANTINEWEDDING."