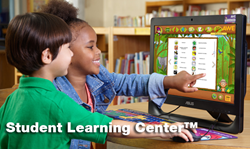 I am particularly impressed by the adaptability and versatility of AWE's digital learning platform to meet the needs of our students. - Ellen Challenger, Educational Consultant for Kent Youth and Family Services
Kent, WA (PRWEB) May 29, 2014
Kent Youth and Family Services and King County Housing Authority have announced the implementation of 12 AWE Student Learning Center™ computers as part of a comprehensive Read to Succeed Initiative.
The Read to Succeed Initiative and its partners are focused on the goal that all children in the King County Housing Authority communities of Birch Creek, Valle Kee, and Cascade enter kindergarten ready to learn and stay on track to read by the end of third grade. The initiative, led by the King County Housing Authority (KCHA), involves partnerships with on-site providers and agencies. Kent Youth and Family Services (KYFS) is the afterschool provider on site. As part of the initiative, KYFS has worked to align their afterschool program with school academic outcomes.
The Read to Succeed Initiative has also been a part of the Race to The Top Deep Dive work in South King County. The Race to The Top plan emphasizes the alignment of afterschool programs with school outcomes, connects the programs to the school to work together on student success, and provides individualization through technology. To support students meeting this goal, Kent Youth and Family Services has deployed the Student Learning Center computers from AWE. These digital workstations provide early learners with a personalized learning environment aimed at increasing their academic performance in school and developing digital fluency.
"We have carefully evaluated the learning solutions offered to our kids and selected AWE to deliver a proven, reliable solution that supports our staff and adapts to the needs of our many students across a wide range of disciplines, ages, and learning abilities," states Linda Hughes, Manager of Education Initiatives for King County Housing Authority.
The AWE Student Learning Center enables the KYFS staff to easily assess participating students using an adaptive assessment. The data collected informs decisions on activities assigned to individuals. All workstations are synchronized automatically and report student progress to a web-based reporting system.
"Unlike the typical web-connected computer or an iPad or Chromebook, the AWE system enables educators to focus students on particular learning objectives across a variety of applications and content areas, and monitor student progress at all times," says Karl Thornton, CEO and founder of AWE.
The AWE Student Learning Center computers have a broad selection of applications covering mathematics, language arts, social studies, science, engineering, graphic arts, and music.
The investment in the AWE platform is secured by a multi-year warranty on both hardware and software, eliminating IT demands, improving reliability, and lowering total cost of ownership for KYFS. All activities assignable to students are correlated to Common Core and State Standards.
Claire Wilson, Executive Director of Early Learning for the Puget Sound ESD, has great hopes for the AWE implementation. "The student population attending the KYFS afterschool programs represents an important cross-section of at-risk students in our elementary schools today, and in the future. I am pleased to see the King County Housing Authority investing in proven solutions to improve the academic preparation of early learners," she says.
Ellen Challenger, Educational Consultant for KYFS, offers the following perspective: "The goals of KYFS afterschool programs are evolving to include a greater emphasis on academic preparation and enrichment for the student participants. We're developing the skills of our staff to utilize digital learning tools including interactive whiteboards, project-based learning activities, and developmentally appropriate learning moments using the AWE Student Learning Center workstations to meet the needs of our early learners. This is an exciting initiative for KYFS, located at the heart of the Race to the Top region. I am particularly impressed by the adaptability and versatility of AWE's digital learning platform to meet the needs of our PreK students in our Play and Learn groups, our elementary school-aged students, and even some of our older students needing deeper remediation."
Lee Durfey, Birch Creek site's lead teacher for older students, explains, "Our older students are drawn to the AWE workstation's capabilities as well. Some have taken on a leadership responsibility mentoring and coaching younger students using the Student Learning Center's activities as a template for instruction. It's a learning opportunity for all involved."
About Kent Youth and Family Services (http://www.kyfs.org)
Kent Youth and Family Services provides professional counseling, education, and support services to children, youth and their families in our community, developing innovative programs that meet the evolving challenges of our diverse community in culturally sensitive ways.
About AWE (http://www.awelearning.com)
AWE provides complete digital learning solutions for young children, PreK-Grade 3. AWE's solutions cover all curricular areas and are coordinated to standards.