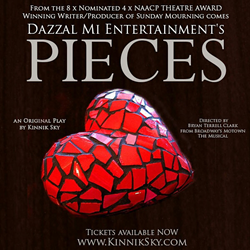 If you like Scandal, You're going to LOVE Kinnik Sky's PIECES!
(PRWEB) October 28, 2015
Kinnik Sky, CEO of Dazzal Mi Entertainment, and Broadway star Bryan Terrell Clark have joined forces for two weekends to produce special fundraising performances of the dramedy "Pieces" at the Pasadena Playhouse.
The show--written, produced and starring Kinnik Sky, a top 13 finalist in season five of "American Idol" and winner of four NAACP Theatre Awards--will be directed by Clark, who recently starred as Marvin Gaye in the Broadway show "Motown: The Musical."
A graduate of the Yale School of Drama, Clark is a native of Baltimore and has also starred opposite Laurence Fishburne and Angela Bassett in "Fences", and appeared in numerous television shows including "Person of Interest", "Mysteries of Laura", "Unforgettable", "Royal Pains", "CSI:NY", "The Unit", and Tyler Perry's "House of Payne."
He and Sky connected five years ago, when Clark co-directed a play in which Sky was cast. Clark later went on to serve as Sky's acting coach for a production Sky wrote and starred in, "Sunday Mourning". She went on to win one of Dazzal Mi Entertainment's four NAACP Theater awards—this one for best female lead. Sky attributes her NAACP win to Clark's coaching.
Sky is a veteran of television and film, and the Columbia, S.C.-by-way-of-Atlanta-native has more than 35 theater credits in her career including roles in productions of "Dreamgirls", "For Colored Girls Who Have Considered Suicide When the Rainbow is Enuf", "Flying West", and "Tambourines to Glory". Two of the productions occurred under the direction of noted Broadway director Kenny Leon.
Her proudest accomplishment to date is writing, producing and starring in the stage production "Sunday Mourning", for which she won three of her NAACP Theater Awards. The play also received seven NAACP award nominations, including one for Best Playwright.
Sky said Dazzal Mi Entertainment is also gearing up to begin filming "Sunday Mourning" in 2016. Sky is also set to release Dazzal Mi Entertainment's first scripted web-series Power Couple Struggle in 2016.
"Pieces", which earned Sky her eighth NAACP Theatre Award nomination and her fourth win during its inaugural run in 2013, returns to the Pasadena Playhouse Nov. 6-8, 13-15 and Nov. 20-22 Fridays and Saturdays at 8 p.m. and Sundays at 6 p.m. .
Proceeds from the performances will benefit LEAP, an after school program which is designed to help under served youth develop critical thinking skills. Established in 2004 to supplement traditional academic experiences with an impactful program for the youth.
"Pieces" follows the story of Nile Winters, a beautiful and intelligent psychiatrist who has everything she desires, except one thing—a man. She meets someone and discovers they share an instant and mutual attraction. Ideally, everything seems right except for one thing—the man's wife and child.
Now the question is, will this staunch Christian resist the temptation to become a mistress or will pieces of a man be just what the doctor orders?
In addition to featuring Sky in the role of Nile, the production also includes Syr Law as Melissa; Colbert Alembert & Austin Klich as Jovi; Angel Payne as Dion; KiKi Finley as Brandi; Karimah Westbrook as Vanessa; Meredith Thomas as Jennifer; Deosick Burney as Miles; Thomas Williamson as Malik; Ottavio Taddei as Mauritzio; and Thai Douglas in the role of Charles.
As part of the program, youth in LEAP had an opportunity to receive mentoring from the professional cast members in "Pieces." They have done this as part of a two-day master class workshop. The course included learning about the various aspects that are pivotal to creating a play, as well as creating, reading and performing a vignette.
The Pasadena Playhouse is located at 39 S. El Molino Ave., Pasadena. 1-800-838-3006 or Contact http://www.KinnikSky.com for tickets.