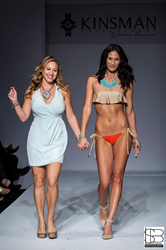 This is a proud moment, and our talented models looked so exquisite on the runway
Los Angeles, CA (PRWEB) March 12, 2014
A shipwreck-inspired fashion show left attendees wondering what could possibly have been in store for Kinsman Swim, at the brand's debut runway of Style Fashion Week and its Spring/Summer 2014 collection.
Kinsman Swim is a Brazilian cut line of hand-sewn swimwear, having arrived in LA two years ago. Since then, Kinsman has seen incredible gain in attention as the exclusive luxury swim brand it has become.
Designer Joanna Kinsman showcased pieces from the brand's Signature Swim Collection, last night while showing off some of the brighter looks for 2014. The stage also featured custom bikini looks to show exclusive creations for Style Fashion Week and LA Fashion Week guests.
Kinsman additionally teamed up with Stylist Samantha Freedman, founder of Impressionist Designs, who leveraged the talents of three local jewelry lines, LovMely, A. Marie Jewelry, and Alexa Mitchell Designs, while the stylist and jewelry designer created custom looks for the mermaid themed show that now has everyone talking.
Impressionist Designs and Freedman's innate attention to detail led to the hiring of celebrity hair and makeup artist Dinah Raphaelle. In turn, through their vast network of growing connections, MINE Luxury Nail Lacquer became a proud contributor on the runway for LAFW. Their precious metals high-end line boasts 24k gold nail polish amongst other colors and elements. Kinsman Swim's launch at LAFW rose to the occasion that the opportunity presented.
Kinsman and her models were flooded with requests as they exited the runway last night. "This is a proud moment," Kinsman stated, "and our talented models looked so exquisite on the runway."
When asked about her upcoming plans, the designer disclosed, "I've already begun designing the 2015 Collection, and can't wait to make our next show even better, if that's at all possible." Kinsman Swim has plans to expand the line to appeal to a broader market, including menswear and active wear.
Style Fashion Week LA is the largest, most influential fashion event of the season, and LA is the country's hot spot for swimwear. Now amidst its 7th straight season, Style Fashion Week booked its official Hair Sponsor FHI Heat and Makeup Sponsor Starlooks Pro Cosmetics, giving the Kinsman Swim models a look of wavy beach curls and makeup with an under-the-sea look and feel.
The line can be found at the prestigious Fred Segal in Santa Monica, as well as its own online store, and Amazon. For more information, visit KinsmanSwim.com.
Additional thanks:
FHI Heat
Prive Haircare
Courtyard Marriott, Culver City
Media Inquires:
For all other inquires please contact:
Kinsman Swim
Love (at) KinsmanSwim (dot) com