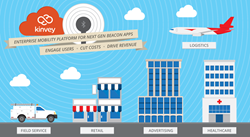 Mobile technology is moving so fast and platforms like Kinvey's deliver enterprises an agile and cost effective solution to keep pace and take advantage of this game-changing technology.
Boston, MA (PRWEB) May 19, 2014
In response to growing demand in vertical markets such as retail, advertising, logistics, healthcare and field service, Kinvey (http://www.kinvey.com), the leading enterprise Mobile Backend as a Service (MBaaS) platform, today announced comprehensive support for beacon-enabled enterprise applications. Kinvey has added beacon extensions to its mobile and responsive Web client libraries and also added pre-built backend business logic modules. These additions help developers accelerate application development and create new business processes and use cases. Now, enterprises, agencies, and developers are empowered to build elegant beacon apps using the frontend tools and beacon hardware of their choice while IT departments get an up-to-date, proven backend system with the four key features required for all mobile applications; identity management, data services, business logic, and engagement services.
Today's beacon "1.0" apps have largely been for simple marketing or retail uses but this is now changing. For enterprises, beacon apps represent opportunities to not only improve business processes and deliver personalized experiences, but also reduce costs and create new revenue streams. However, achieving this potential involves complex development challenges that the new Kinvey enterprise MBaaS beacon solution addresses.
On the front end, Kinvey's solution removes the need for writing cumbersome beacon discovery and management code from scratch by including pre-built client library extensions to address some of today's beacon hardware shortcomings such as beacon reporting frequencies, proximity fluctuations and data smoothing. The client libraries integrate with the mobile backend to ensure the accuracy of beacon proximity reporting, manage notifications, securely connect user ID with beacon proximity, ensure delivery of personalized content to specific users, and map to the enterprise's IT systems of record.
"We saw demand and quickly added new beacon capabilities to provide our enterprise customers with new ways to make money, cut costs and engage their users," said Sravish Sridhar, CEO of Kinvey. Since our platform is extensible, we were able to add this new capability in just six weeks, much faster than legacy mobile platforms who have yet to add support for beacons."
"Beacon technology's ability to deliver content in context enables innovative use cases in markets such as retail, logistics and healthcare," said Srini Koushik, CEO of NTT Innovation Institute. "Mobile technology is moving so fast and platforms like Kinvey's deliver enterprises an agile and cost effective solution to keep pace and take advantage of this game-changing technology."
"Who's at Glue?" - one of the beacon apps built on the Kinvey platform - also debuts today. The enterprise beacon app is designed to improve and personalize the conference experience. After downloading the app, attendees at the Gluecon 2014 conference simply sign-in with their LinkedIn credentials or create an account with an email address and check-off their areas of interest. As they move about the conference, a mix of iBeacons and Gimbal beacons track attendees' locations and notify them of people with similar interests located nearby. Using the app, attendees can request and accept meetings on the fly with conference-goers who may share interests or have specific expertise, and select the best meeting location, such as the closest or the least crowded. For Gluecon's organizers, the app also provides a macro-view of the flow of people across the venue's meeting rooms, restaurants, and facilities.
"Gluecon's audience is comprised of the world's leading cloud and mobile app developers so it's the ideal location to debut a beacon app that enhances their participation at Gluecon," said Eric Norlin, Gluecon conference organizer. "The 'Who's at Glue?' app will not only help attendees get the most of out of the conference but also, as organizers, it will help us improve our processes for our next conference."
Links:
Download the Who's At Glue app here: https://itunes.apple.com/US/app/id860551259?mt=8
Kinvey iOS library extension for Beacon apps: https://github.com/KinveyLabs/KCSIBeacon
About Kinvey:
Kinvey is the leading enterprise Mobile Backend as a Service (MBaaS) platform that helps enterprises, agencies, and developers launch successful and engaging apps. Kinvey provides comprehensive support for native, hybrid, and mobile Web applications and delivers out of the box enterprise capabilities including identity management, integration with enterprise data sources and a data store and file store for new mobile data, ability to run customized business logic, and a rich set of mobile engagement services. Kinvey runs in a multi-tenant cloud or in a dedicated public or private cloud. On average, Kinvey customers launch apps twice as fast and at half the cost as traditional methods. For more information, visit http://www.kinvey.com.