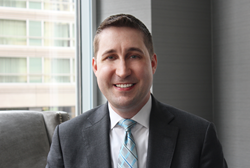 Kinzie Hotel embraces an authentic Chicago experience.
Chicago IL (PRWEB) June 20, 2016
The Kinzie Hotel located in River North, just steps away from the hustle and bustle of Michigan Avenue, has appointed Andrew Eck as General Manager. The upscale boutique property, which reopened two years ago following a multi-million dollar reconcepting, boasts a timeless contemporary look and image that pays tribute to great Chicago historical figure John Kinzie. At the center of Eck's agenda is to emphasize the hotel's motto, "Chicago Starts Here," which is evident in everything from its décor to its customized packages.
"As our eponymous name suggests, Kinzie Hotel embraces an authentic Chicago experience," said Eck, who oversees all hotel operations. "I'm excited to lead a dedicated team that takes pride in giving guests a taste of what makes this a world-class city. Whether you're here to dine at a Michelin-starred restaurant in River North or shop the Mag Mile, Kinzie is your home-away-from-home in the middle of it all to start or end the day."
In addition to being centrally located in Chicago's most entertaining neighborhood and walking distance from several city landmarks, Kinzie Hotel incorporates elements of the Chicago story throughout its design, amenities, and promotions. The hotel hosts a total of 215 chic guestrooms and suites and over 1500 square feet of meeting space – all featuring contemporary décor and artwork that speak to the local Chicago landscape. Designed by Gettys Design Group Chicago, each guestroom pays homage to the hotel's exploratory history with a wall treatment subtly displaying a street map of historic Chicago. Additionally, guestrooms and common areas display various painted interpretations of local Chicago sites. Guests can also partake in customized hotel packages that combine their overnight stay with exciting activities around the city and further enhance their Chicago Starts Here experience.
Throughout his various tenures as General Manager, Eck has promoted an inspirational service-based culture to stimulate a unified vision and maximize performance. At Kinzie Hotel, he's dedicated to delivering an extraordinary stay tailored around a Chicago-centric philosophy. Eck's self-described "laser focus" is on guest experience, having the right talent in place, and honing an eye for detail throughout the hotel.
"We are excited for Andrew to lead the team at Kinzie," said Graham Hershman, Chief Operating Officer of Portfolio Hotels & Resorts. "His passion for exceeding guest expectations and impeccable service is the perfect formula for success. With Andrew's strong pedigree at the helm, this boutique property's future looks very bright."
The native of Bradford, PA fell in love with hospitality in high school working as a cook at a local country club. He pursued an Associate degree from the Culinary Institute of America where, while working at the Institute's four 5-star restaurants, decided he preferred guest interaction in the front of the house. As such, Eck went back to school and pursued a Bachelor of Arts degree from Mercyhurst University in Erie, PA. After graduating in 2001, Eck jumped into the hotel business and joined Winegardner & Hammons, Inc. with their independent hotel in Athens, OH (The Ohio University Inn & Conference Center). After starting off as a Restaurant Manager, he was promoted to Assistant General Manager in 2004.
Eck's career goal of becoming a GM before age 30 came to fruition when he was offered his first GM position at the new Hyatt Place brand in Cranberry Township, PA two month before his 30th birthday. At Hyatt Place, he led a team that earned several awards, including Most Improved Hotel in 2010 and Hotel of the Year in 2012. Shortly thereafter, Eck was recruited by White Lodging Services to open one of the first urban Hyatt Place hotels in Chicago. As GM, he was responsible for launching the world's first Triplex (3 hotel brands under 1 roof); Aloft, Fairfield Inn & Suites and Hyatt Place Chicago River North. The hotel was incredibly successful and paved the way for several other urban Hyatt Place locations globally.
About Kinzie Hotel
Kinzie Hotel is a Chicago-centric boutique hotel in the vibrant River North district. Along with a contemporary, upscale atmosphere, the 215-room hotel offers daily continental breakfast served on each guest floor as well as a nightly manager's reception with light appetizers and a complimentary drink for each guest. Located at 20 N. Kinzie St (Chicago, IL 60654), the property opened in 2014 and is managed by Portfolio Hotels & Resorts. For more information or to book a next reservation, visit http://www.kinziehotel.com.
About Portfolio Hotels & Resorts
Headquartered in Westmont, IL, Portfolio Hotels & Resorts is a hospitality management company experienced in managing unique, boutique-style hotels, destination resorts and significant branded urban hotels in major domestic and destination markets. The company was established in 2005 by former Chicago-based Coastal Hotels founders Helmut Horn and Graham Hershman, industry veterans whose past experience includes development of the Hawthorne Suites brand, the Highlands Inn in Carmel, CA, and Cheeca Lodge in the Florida Keys. For more information about the company, visit http://www.portfoliohotels.com.