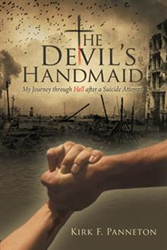 SCHENECTADY, N.Y. (PRWEB) December 11, 2014
Author Kirk F. Panneton gives a candid, transparent and original account of the spiritually powerful events experienced in a coma that ensued after a near-successful suicide attempt in his new memoir, "The Devil's Handmaid: My Journey through Hell after a Suicide Attempt" (published by Archway Publishing).
After battling acute depression for more than a decade, Panneton attempted suicide on Jan. 27, 2013. He then spent weeks recovering from brutal injuries in a rural ICU in the Midwest. During that time, he experienced vivid, powerfully transformational, extra-dimensional dreams that changed his life, outlook and future. "The Devil's Handmaid" recounts Panneton's literal journey from death and darkness into life and light. "It was the mortal fight of my life," writes Panneton. "Ultimately, I'd hope that people see that this struggle is defined by more than a fleshly fight back to life. The choice to live was presented to me in many forms," he writes.
Alongside his detailed extra-dimensional encounters is the three-dimensional experience of his loved ones as they lived through the same event. After chronicling his comatose experiences, Panneton then invites readers into the rigorous project of personal healing, spiritual reconstruction and religious redefinition. "I feel the drive and purpose to connect with people and share my story with bare honesty; now that it is finally recorded, I think it should inspire many conversations – suicide, mental health, spirituality, social consciousness, politics. While these are conceivably separate topics, my comatose experience has revealed an unusual perspective where these all end up in the same arena. Above all, the forces that drew me back to life should be emphasized and announced for all to hear. I think it is something of a gift to not only have another chance at life, but to have seen – with my own 'eyes' – the spiritual take on physical form. I hope it is a suggestion of order to the chaos and incomprehensibility of three dimensional life."
Panneton writes, "In a state of deep sleep, my imagination offered a powerful interpretation of the human life I've led in startling detail, and with tremendous force. While it was impossibly difficult, and indescribably painful, to have lived and survived this event, I know it was not without intense purpose to have seen how death and evil can take on form in our world, and then to have seized the opportunity to share it exactly as it was lived." Panneton presents a unique, firsthand narrative of his spiritual encounter with life and death in hopes of giving everyone a reason to keep fighting – and to ceaselessly choose life and love in a world otherwise owned by darkness.
"The Devil's Handmaid"
By Kirk F. Panneton
Hardcover | 6 x 9 in | 238 pages | ISBN 9781480809758
Softcover | 6 x 9 in | 238 pages | ISBN 9781480809765
E-Book | ISBN 9781480809772
Available at Amazon and Barnes & Noble
About the Author
Kirk F. Panneton received his undergraduate education at Boston College, later studied at Columbia University's Union Theological Seminary in New York City and finally earned a graduate degree in religious education from Fordham University. He has two brothers and one sister and currently lives in New York. More information is available at http://www.thedevilshandmaid.com.
Simon & Schuster, a company with nearly ninety years of publishing experience, has teamed up with Author Solutions, LLC, the leading self-publishing company worldwide, to create Archway Publishing. With unique resources to support books of all kind, Archway Publishing offers a specialized approach to help every author reach his or her desired audience. For more information, visit http://www.archwaypublishing.com or call 888-242-5904.