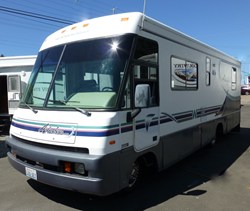 The luxury and convenience of RV camping is unparalleled. Whether it's sleeping in a real, soft bed, having a shower every morning, or using a clean bathroom, RVs are the fanciest way to camp.
Everett, WA (PRWEB) August 08, 2013
Many families enjoy spending their vacations out in nature through camping. There are many inconveniences with camping, however. Consider the packing phase: packing a tent big enough to hold your family or group, a portable cooking station, sleeping bags, etc. can be stressful. A recent blog post from Kirkland RV, a local RV sales company, shows how campers can avoid the packing hassle of traditional camping by traveling in an RV.
The blog article lists five items campers don't need to bring when traveling by RV. The first (and largest) of these items is the tent. Tents can become a huge inconvenience for families, as most tents hold three people or less. According to the post, the advantage of traveling by RV is that there is no need for setup or teardown. Another item on Kirkland RV's list was the food storage equipment, specifically the coolers and ice packs. With an RV, campers have the convenience of a refrigerator and a freezer. Campers can now bring along any cold items they want: meats, cheeses, milk products, ice cream, and more.
Also included on the list was the cooking station. Most campers bring a portable barbecue or stove heated through gas tanks. These are bulky and heavy, and cannot compete with the full scale kitchens in RVs. The final benefit Kirkland RV states for RV travelers is the entertainment they won't bring in an RV. Traditional campers have to bring things like battery powered FM radio tuners, books that campers can afford to lose, and maybe a few old magazines. Campers don't bring their best entertainment when tent camping because there is a huge risk of damage. RVs provide a safe environment for your best entertainment, as well as the necessary media outlets.
There are many benefits of traveling in an RV. The blog post concludes that families seeking the great outdoors experience but also wanting the comfort of home should consider an RV. Kirkland RV specializes in selling a wide variety of RVs to fit every camper's needs. To learn more about Kirkland RV and the benefits of camping in an RV, read their full blog article here: http://www.kirklandrvsales.com/what-you-dont-need-to-pack-on-an-rv-vacation/.