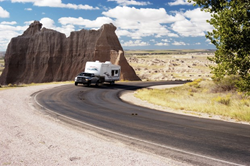 The complexity of RVs and motorhomes can make them intimidating to shop for.
Seattle, WA (PRWEB) May 11, 2015
The complexity of RVs and motorhomes can make them intimidating to shop for. In their latest article, Kirkland RV gives some basic warnings and inspection tips to help buyers know what to look for and consider when purchasing a used RV or motorhome.
The article states that, "Checking each of the vehicle's unique appliances, in addition to the engine, tires, battery, and structure is a task that should not be taken lightly."
Kirkland RV begins their article by revealing two major warning signs that buyers can watch out for. The first warning should be based on how much the vehicle spent sitting around. The article states that, "While a vehicle that has been used less might seem like a better option, this can actually mean that the engine and machinery will break faster."
The second warning that Kirkland RV has for used motorhome buyers is that vehicles that have been stored outdoors are a dangerous investment. Kirkland RV says in the article that, "Because of the incredible amounts of rain and snow that the Northwest gets, vehicles that are stored outside, particularly on grassy surfaces, experience the worst exposure to the elements."
Kirkland RV then takes a brief look at 3 specific things that buyers should inspect in both the interior and exterior of the vehicle. One of the major things that buyers should note about the interior of an RV is the condition of the ceiling. Ceilings that look weak or have had previous repairs done can turn out to be an investment the buyers had not planned for.
Kirkland RV concludes their article by analyzing the benefits of the diesel pusher. While finding a used diesel pusher can be a struggle, Kirkland RV says that, "Not only can these great vehicles offer a higher mileage rate, but used diesel pushers can be a financially conservative choice without compromising comfort."
Kirkland RV offers a wide selection of used RVs and motorhomes. For more information or to view their selection, visit their website at http://www.kirklandrvs.com.
About Kirkland RV Sales:
Kirkland RV Sales offers a variety of RVs, including Class A's, Class C's, and Fifth Wheels. Their branch in Everett is acclaimed for its high-quality customer service and satisfaction. To learn more, visit their website:
http://www.kirklandrvsales.com/.
13111 Highway 99
Everett WA 98204
Phone: (866) 710-0064
Fax: (425) 710-0504