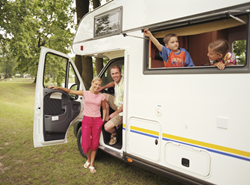 Everett, WA (PRWEB) September 22, 2014
The first dive into the world of used RV's can be daunting for new RV-buyers. Fortunately, they have the helping hand of Kirkland RV who offers their secret tips on how to find the best used RV deal.
A recently released article from Kirkland RV offers up to prospective RVers a checklist of 11 items they should consider and inquire about when looking at available RV options.
Their article, "11 Tips to Buying Used RVs," helps RV-buyers assess whether or not the used unit that they are considering is worth the cash, or whether it's hiding flaws.
"What might appear as a pristine unit with incredible features and all the best bells and whistles may actually be hiding some serious problems," the article warns. "Knowing how to spot these problems goes a long way when you're making such a big investment."
The checklist they provide encompasses everything from how to properly examine the engine and bathroom amenities, to how to spot sun damage and water damage to the interior and rust on the exterior frame.
The most important things to check, according to the article, is the engine first, followed by kitchen amenities, air conditioning units, electrical work, and slide-outs. All of these can be very costly items to replace or repair.
Kirkland RV prides themselves on being extremely selective about all of their used RVs. Before sending a new unit onto the lot or into their online listings, they thoroughly inspect their vehicles, using their own checklist as a guide.
In their words, "We work hard to find the RVs that have been gently used and are still in top-notch condition. All of our RVs are inspected and repaired prior to going on our lots, or will have their prices reduced according to the amount that repairs may cost a buyer—and we make the need for such repairs clear to our buyers before they purchase."
Heads up to RV-enthusiasts about this article—this is a source to consider for buyers and sellers alike.
About Kirkland RV Sales:
Kirkland RV Sales offers a variety of RVs, including Class A's, Class C's, and Fifth Wheels. Their branch in Everett is acclaimed for its high-quality customer service and satisfaction. To learn more, visit their website: http://www.kirklandrvsales.com/.
13111 Highway 99
Everett WA 98204
Phone: (866) 710-0064
Fax: (425) 710-0504