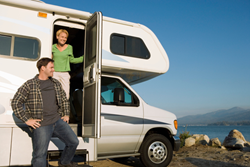 Learn how to know whether the used unit you're looking at is hiding any flaws by reading our guide to purchasing a used RV.
Everett, WA (PRWEB) August 16, 2014
Kirkland RV seeks to help RV-buyers know how to purchase a good used RV. Their recently released article, "11 Tips to Buying Used RVs" provides those considering purchasing a new or used RV with the checklist of items they should consider and ask about when looking at available RV options.
"A beautiful unit that might seem as though it has all the bells and whistles might actually be hiding mechanical errors," warns Kirkland RV, "Conversely, RV's that have the well-loved look of slightly worn seats and appliances may actually be the most sound and sturdy RV that you could wish for. How can you know?"
Their article can help RV-buyers know whether or not the used unit that they are looking at is hiding any flaws.
They provide a comprehensive checklist of 11 items that must be examined or inquired after, including the engine, roof, bathroom, appliances, and more. Tips on how to spot warning signs are given for each item.
Kirkland RV has a constantly fluctuating inventory of RV models, of every class and price range. They pride themselves on finding RV's that have been gently used and are still in top-notch condition. RV's are inspected and repaired before going onto the lot, or will have their price reduced according to the amount that repairs may cost a buyer.
"If you're still looking for a new used RV, come down to our dealership or look through our listings," invites Kirkland RV. "We can go through our checklist for buying the best used RV together!"
About Kirkland RV Sales:
Kirkland RV Sales offers a variety of RVs, including Class A's, Class C's, and Fifth Wheels. Their branch in Everett is acclaimed for its high-quality customer service and satisfaction. To learn more, visit their website:
http://www.kirklandrvsales.com/.
13111 Highway 99
Everett WA 98204
Phone: (866) 710-0064
Fax: (425) 710-0504