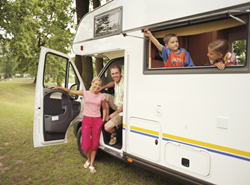 Everett, WA (PRWEB) August 29, 2014
Many RV-lovers have earnestly debated whether it's better to buy new or used RVs. Kirkland RV modestly takes their stance on the hot topic in their recently released article, "Benefits of Buying a Used RV."
Their article highlights what they feel are the four most impactful benefits of buying a used RV in lieu of a brand new model. Naturally, their first point focuses on the significant cost difference.
"The price of a new recreational vehicle drops by approximately 30% as soon as you drive it home, and will fall an additional 10-20% in the next two years. Buying a used RV allows the previous buyers to take the hit on depreciation instead of your wallet," they say.
They also point out to those who are concerned that a used RV will require many costly repairs that these costs rarely add up to the amount that they would have paid for a new RV.
To view Kirkland RV's listings, follow this link to their website: http://www.kirklandrvsales.com/search-results/?alllistings=true.
Another listed benefit is how used RVs have accumulated a greater number of reviews and feedback on these older models, allowing RV-buyers to be more informed about the true quality of RV they are considering and proving or disproving the "sales talk" buyers often hear when contemplating purchasing a brand new recreational vehicle.
"There are risks and benefits to both options," says Kirkland RV, "and each individual RV-lover must calculate which benefits and which risks are of the greatest importance to themselves."
About Kirkland RV Sales:
Kirkland RV Sales offers a variety of RVs, including Class A's, Class C's, and Fifth Wheels. Their branch in Everett is acclaimed for its high-quality customer service and satisfaction. To learn more, visit their website: http://www.kirklandrvsales.com/.
13111 Highway 99
Everett WA 98204
Phone: (866) 710-0064
Fax: (425) 710-0504