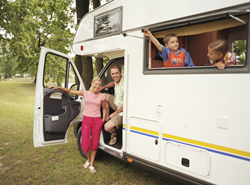 Everett, WA (PRWEB) October 24, 2014
Kirkland RV, a local RV dealership in Everett, WA, has given advice before on how to spot the best quality used RV, how to properly install new features, and the most significant areas of the RV that are going to need the most maintenance. Now they've released an article explaining their reasons for so frequently recommending used RV's to their customers.
One of their top reasons? The cost.
"This is the most obvious reason for purchasing a used RV. The fact is, the moment that you drive a brand new RV off the lot, it starts depreciating—and quickly. The price of a new recreational vehicle drops by approximately 30% as soon as you drive it home, and will fall an additional 10-20% in the next two years," Kirkland RV explains. Buying a used RV allows the previous buyers to take the hit on depreciation, and the savings go into the new owners wallet. They recommend between one to five years old as the best age to look for.
To view their listings on used RVs, visit http://kirklandrvs.com/.
"You'd be surprised at how many affluent families simply buy a new RV every year or so, even if there are no problems with their current model, just to keep up on the warranty," they say.
Other reasons for buying a used RV include the ability to buy very high quality units that are within a reasonable budget, more reviews on specific models that will provide better insight into the quality and comfort of an RV model, the ability to add additional features for a fraction of the cost that they would cost new, and more.
At the end of the article, they provide a checklist for RV-buyers to use as a guide when deciding what RV model and year will best fit their family and their budget. Anyone considering an RV purchase should check it out.
About Kirkland RV Sales:
Kirkland RV Sales offers a variety of RVs, including Class A's, Class C's, and Fifth Wheels. Their branch in Everett is acclaimed for its high-quality customer service and satisfaction. To learn more, visit their website:
http://www.kirklandrvs.com/.
13111 Highway 99
Everett WA 98204
Phone: (866) 710-0064
Fax: (425) 710-0504