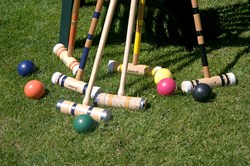 With games like these, there never has be a dull moment when camping.
Seattle, WA (PRWEB) September 07, 2013
In harmony with their goal to always make the camping experience more fun and pleasant, Kirkland RV Sales has released a brand new article with ideas for safe and enjoyable fun with games while on a camping vacation. It lists seven outdoor games that bring life to the trip and explains the basic rules of each game. The article looks at two types of outdoor games specifically: games that can be played with a group of people and games that are better suited for when it is just the family camping together.
Under the list of games for large groups, there are four games listed. Starting with Ultimate Frisbee and covering others such as Capture the Flag, this section discusses exciting games for when families or friends are all camping together. The rules for these games are included in the article and links to videos and details are supplied as well.
The family games section brings to the table a few games that are fun for all ages and can be played without a large number of people. These games include croquet, backyard bowling, and bocce ball. These games are fun outdoor activities, completely safe for any age group, and are easy to learn and play. With games like these, there never has be a dull moment when camping.
The full article can be read at http://www.kirklandrvsales.com/7-best-outdoor-games-safe-fun/.
About Kirkland RV Sales:
Kirkland RV Sales offers a variety of RVs for sale, including Class A's, Class C's, and Fifth Wheels. Their branch in Everett is acclaimed for its high-quality customer service and satisfaction. To learn more, visit their website: http://www.kirklandrvsales.com/.