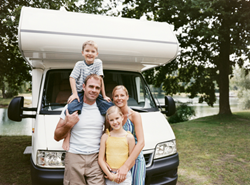 There are some red flags that will tell you when it's time to move on to bigger and better RV's.
Everett, WA (PRWEB) January 16, 2015
Kirkland RV, a business specializing in RV motorhomes, sees a lot of people come through their doors, all with different ideas of what they need or want in an RV. Sometimes, however, these upgrades are long overdue. Clients that admit that they've been dealing with costly repairs for years, or those owners that explain they've stopped travelling in their RV because their kids have outgrown the desire to share a bed, are just a few of the many that don't realize that they are in dire need of an RV upgrade.
In view of this, Kirkland RV has written a new article explaining to RV-lovers the top 4 indicators that an RV upgrade is in order.
"An RV should be a comfortable and relaxing space for you," says Kirkland RV, "Feeling cramped, or worrying that your RV is going to break down is not a recipe for an enjoyable vacation. Whether you only use your RV a few times a year, or whether you are a full-timer, there are some signs that you should be on the look out for it might be time for you to move on to bigger and better things."
Kirkland RV has many different RV models available at their location in Everett, WA. Fifth wheels, travel trailers, coach, and many different brands and makes can be viewed. To see their online listings, follow this link to their website:
"Our staff are here to help you determine what style and model of RV is going to fit your needs and desires the best. For some, that might mean small and sleek. For others, it will be spacious and cozy. Whatever your preferences or desires, we are sure to have it for you," Kirkland RV concludes.
About Kirkland RV Sales:
Kirkland RV Sales offers a variety of RVs, including Class A's, Class C's, and Fifth Wheels. Their branch in Everett is acclaimed for its high-quality customer service and satisfaction. To learn more, visit their website:
http://www.kirklandrvsales.com/.
13111 Washington 99 Everett, WA 98204
(425) 710-0064
kirklandrvsales.com
Fax: (425) 710-0504