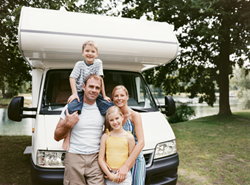 "It's altogether possible to plan a fun, exciting summer trip full of memorable adventures that doesn't break the bank!"
Seattle, WA (PRWEB) May 08, 2014
"It's altogether possible to plan a fun, exciting summer trip full of memorable adventures that doesn't break the bank!" says Kirkland RV in their recent article, "5 Budgeting Tips for Your RV Trip."
The article describes several practical ways that RV vacationers can save money, and it also encourages travellers plan for the various unanticipated expenses that will undoubtedly occur on an RV vacation.
Find a great value RV with Kirkland RV Sales - http://www.kirklandrvsales.com
The article discusses how travellers can save on gas by selecting a vacation destination closer to home. Meal expenses can be saved by planning ahead, shopping smart, and taking advantage of discounts. RVers can also invite friends along and split the cost of the trip.
Finally, the article recommends that RVers, "Plan a miscellaneous category into the budget to accommodate those last minute or emergency expenses."
Kirkland RV recommends that RVers stick to their budget on their RV trips, and they also empower RV shoppers to be able to stick to their budget when purchasing an RV. Their 35 years of experience makes them a credible source to answer any questions and provide reliable recommendations.
About Kirkland RV:
Individuals that are eager to get started on preparing for the rapidly approaching camping season can review Kirkland RV's available models by viewing their listings. Kirkland RV Sales offers a variety of RVs, including Class A's, Class C's, and Fifth Wheels. Their branch in Everett is acclaimed for its high-quality customer service and satisfaction.
Kirkland RV
13111 Highway 99
Everett WA 98204
866.710.0064
http://www.kirklandrvsales.com