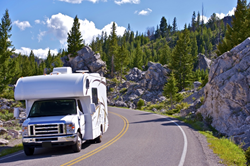 There are many ways to perform easy fixes on your RV - saving you money and vacation time!
Everett, WA (PRWEB) January 28, 2015
An unfortunate reality is that things break. The fortunate reality is that many things can also be repaired. In Kirkland RV's latest article, they take a brief look at a few of the most common problems owners have with their RVs, and suggest several different methods owners can use to try and fix their own problems.
The first problem discussed in the article is that of a leaky faucet or shower fixture. While some water line issues would require professional assistance, Kirkland RV takes a look at the simple process involved in replacing a leaky faucet with minimal expense.
Another common problems for RVs that have experienced a lot of wear is for the roof to begin leaking. When out on a big trip, taking the time to complete the full roof repair project is not the way most people want to spend their vacation time. Instead, as a temporary fix, the article suggests the use of a roof sealing tape to cover exposed areas and wait for the full repairs until they are back home.
Kirkland RV discusses another common problem RV travellers have with their toilets not filling or over filling. The article says that, "Having a toilet that is easily accessible is one of the perks of owning an RV. But when the toilet stops working correctly, this previously pleasant addition can turn into a nightmare." The article goes on to discuss a few possible solutions to these issues.
To learn more about Kirkland RV and their wide selection of new and used RVs, or for more information about their RV services, visit their website at http://www.kirklandrvsales.com.
About Kirkland RV Sales:
Kirkland RV Sales offers a variety of RVs, including Class A's, Class C's, and Fifth Wheels. Their branch in Everett is acclaimed for its high-quality customer service and satisfaction. To learn more, visit their website:
http://www.kirklandrvsales.com/.
13111 Highway 99
Everett WA 98204
Phone: (866) 710-0064
Fax: (425) 710-0504