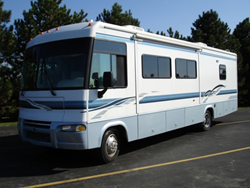 Choosing your RV motorhome is made simple with our infographic that offers simplified information and comparisons.
Everett, WA (PRWEB) March 20, 2015
With such a wide selection of types, shapes, and sizes, it can be hard to find the perfect motorhome. Thankfully, Kirkland RV has just made this process a little simpler. In their latest article, Kirkland RV includes an infographic that lists the star ratings and unique features of five of the most common RV classes on the market.
At the top of Kirkland RV's list is the Diesel Pusher. They are known for being "the height of elegance and comfort in the RV world." These vehicles come with luxuries such as heated tile floors, huge flat-screen TVs, spacious, full bathrooms, and more. Kirkland RV explains that purchasing these RV's used is an excellent way to save money while still getting the best of the best.
Among the higher ranking RVs is the Class A motorhome. This RV is the gas-powered litter brother of the diesel pusher. A few of its benefits is that most come with a full bathroom, master suite, entertainment system, and usually a washer and dryer.
Following the Class A vehicle comes the Fifth Wheel. These vehicles, while being slightly less spacious once the slideouts are retracted, can also allow owners to use their vehicles once at their destination. Many include a standard kitchen, bathroom, bedroom, and dining area.
The remaining vehicle classes are further described in the article, each with a short description of their purposes, and a quick list of their standard accommodations.
Kirkland RV offers a wide selection of many of these vehicles, new and used. They offer a variety of vehicles, all at competitive prices. To learn more about their selection and services, visit their website at http://www.kirklandrvsales.com.
About Kirkland RV Sales:
Kirkland RV Sales offers a variety of RVs, including Class A's, Class C's, and Fifth Wheels. Their branch in Everett is acclaimed for its high-quality customer service and satisfaction. To learn more, visit their website:
http://www.kirklandrvsales.com/.
13111 Highway 99
Everett WA 98204
Phone: (866) 710-0064
Fax: (425) 710-0504