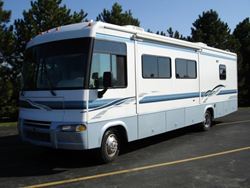 Everett, WA (PRWEB) February 15, 2015
Finding a recreational vehicle that meets an individuals needs and desires is certainly not an easy task. But it is one made easier with the help of Kirkland RVs latest article. Within the article, Kirkland RV offers helpful and detailed information about the different kinds of motorhomes and their features.
The article begins by introducing readers to the Class A RV. According to the article, "If you intend to consistently live on the road, then this RV was built with you in mind." Kirkland RV goes on to list the standard structure and several unique features that Class A vehicles have to offer.
By comparison, Class B vehicles are smaller with fewer amenities. This vehicle, Kirkland RV explains, is often described as a 'van conversion'. On the other hand, Class B vehicles are known to offer great gas mileage and their easy to maneuver driving gives travelers greater freedom. The article offers more details on this class of recreational vehicle.
According to the article, "Class C is a happy medium between the stripped down design of the Class B and the luxury of the Class A." This unique vehicle strikes the perfect chord between the simplicity of a Class B and the luxury of a Class A. The article goes on to list the standard structure of Class C vehicles, as well as their typical accommodations.
Kirkland RV offers a wide selection of new and used RVs and motorhomes for prospective owners to consider. For more information about their selection, visit their website at http://www.kirklandrvsales.com.
About Kirkland RV Sales:
Kirkland RV Sales offers a variety of RVs, including Class A's, Class C's, and Fifth Wheels. Their branch in Everett is acclaimed for its high-quality customer service and satisfaction. To learn more, visit their website:
http://www.kirklandrvsales.com/.
13111 Highway 99
Everett WA 98204
Phone: (866) 710-0064
Fax: (425) 710-0504