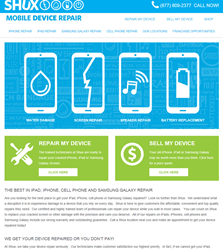 We are pleased to open our latest store in Kissimmee, Florida and to be a part of this thriving community in central Florida... Dru Pio - President
Orlando, FL (PRWEB) November 04, 2014
Shux, an iPhone, iPad and Samsung Galaxy repair specialist, is pleased to announce the opening of their newest store in Kissimmee, Florida. Located at 1491 E. Osceola Parkway, the Kissimmee Shux location offers expert iPhone, iPad, Mac and Samsung Galaxy repair services including cracked screen repair and replacements, battery and LCD replacements, and water damage restoration.
By providing convenient and reliable repair service using high quality parts, delivered by a well-trained and knowledgeable staff of repair technicians, Shux has created a name for themselves in many cities around the country. Their main focus is to make it easier and more convenient for consumers to have their cell phones and electronic devices repaired. To meet this goal, they offer their services seven-days-a-week and offer extended hours and same-day appointments.
According to Squaretrade, a company that offers warranties on iPhones, iPads and other devices, Americans have spent approximately 5.9 billion dollars repairing their devices since the iPhone was first released in 2007. With new technology being released every year, this number is only expected to increase. By opening this new location, Shux hopes to capture a significant portion of the growing cell phone and electronic repair market in Florida. Kissimmee, Florida has a population of approximately 65,173 and is the county seat for Osceola County. With its close proximity to Disney World, Epcot, Sea World and numerous other theme parks and popular tourist attractions, Kissimmee, Florida represents a tremendous opportunity within the Florida market. This new Shux location will cater to the tourists visiting Florida as well as the employees of all the nearby tourist attractions. According to Shux's founder and current owner, Dru Pio "We are pleased to open our latest store in Kissimmee, Florida and to be a part of this thriving community in central Florida. In our newest store, we will offer the same convenient, reliable service that we have provided to our loyal customers in other parts of the country. We hope the opening of our newest store will make it easier for the residents of Kissimmee and those visiting Kissimmee on vacation to have their cell phones and other electronic devices repaired."
In addition to cell phone and electronic device repair services, Shux also buys used cell phones and tablet computers, for cash. This buying program allows consumers to turn any used cell phones or tablet computers that are currently lying around their homes into cash that can be simply pocketed or used to upgrade to the most current electronic products.
About Shux:
Shux is a cell phone and electronic device repair company that specializes in the repair of iPhones, iPads, iPods, Samsung Galaxy devices and other electronic devices. Their hours are Monday through Friday from 10AM to 7PM, Saturday from 10AM to 4PM and Sunday from 12 PM to 4PM. They offer same-day appointments and encourage appointments over walk-in service. If you would like more information or to schedule an appointment, please visit their website at http://www.shuxrepairs.com.