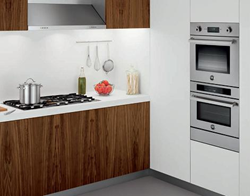 Dual wall mounted ovens enable multiple dishes to be cooked at different temperatures simultaneously and typically take up less space than a dual-oven range.
(PRWEB) September 12, 2013
HomeThangs.com, the Online Home Improvement Store, has made their goal to deliver the right product to the consumer. With that in mind, shopping and home design tips as well as special product selections are being introduced.
Kitchen ranges have long been the go-to cooking appliance in most kitchens. But with the growing popularity of large, luxury, professional style kitchens, that's starting to change. Now, purchasing separate ovens and cooktops is not only a viable option, but also an increasingly common one. HomeThangs.com has introduced a simple guide to the pros and cons of single and double wall mounted ovens.
Wall mounted ovens, regardless of size, are mounted into the kitchen cabinets. Generally speaking, this means that they're generally at a more usable height and are easy to see into while they're in use without any bending or stooping. A single wall mounted oven takes up only slightly more space than a built in microwave and many models can actually be paired with permanent microwaves to create one larger unit.
Double oven models are only slightly shorter than refrigerators, but are generally installed at about the same height with a storage drawer underneath. Having two ovens enables multiple dishes to be cooked at different temperatures simultaneously and typically take up less space than a dual-oven range. Very large kitchen ranges can be upwards of twice the width of a standard wall mounted oven, and while they offer multiple ovens, both ovens often aren't both full sized.
It's worth noting that wall ovens should only be installed as part of a larger remodel. Eliminating a kitchen range will leave a big bare spot with unsightly hookups that will need to be addressed and the oven itself will need to be built into its own cabinet. Before committing to the swap, take time to consider location – not just how the move will affect the kitchen's work triangle but also how it will impact cupboard space. Wall mounted ovens usually start at about head height, which means sacrificing primo eye-level cupboard space, while a double oven can easily take up almost as much space as a small pantry. By contrast, removing a range and replacing it with counters will free up lower cabinet space, but having to install a freestanding cooktop means it won't do much for the kitchen's overall counter space.
When it comes to installation, actually mounting a wall mounted oven is very DIY friendly. But like a dishwasher or built in refrigerator, a wall mounted oven will need a support frame built inside the cabinets – and unlike the other two appliances, the oven will need a strong enough base to hold it up off the floor, too. The enclosure for the oven will likely need to be built from scratch, which along with the need to replace the old range with new cabinets, means this is a project best paired with a full overhaul of the kitchen's cabinetry.
And then there's the issue of the cooktop. Purchasing a cooktop and oven separately means there's a much greater degree of freedom in choosing the type of fuel used by each, and is an especially nice alternative to dual fuel ranges, which are significantly more expensive than standard single fuel models. But while a wall mounted oven will give provide the reliable, even heating of electric power, having to purchase – and install – a gas, electric, or induction cooktop separately, will almost certainly raise the total cost of the project.
Even so, in an odd shaped kitchen, buying a wall mounted oven and cooktop individually may actually be worthwhile for the freedom it gives to rearrange the kitchen layout, especially the work triangle. While traditionally, the cooktop and range are always in one space, having a wall mounted oven means the cooktop can be installed almost anywhere – in the kitchen island, near the sink, across from the sink, or just about anywhere on a counter top that's easy to use, easy to access, and promotes intuitive movement through the kitchen.
To learn more about wall mounted ovens, read the full article here, or check out more beautiful designs from Bertazzoni.
HomeThangs.com is not only a home improvement superstore, it also provides expert design tips and a comprehensive shopping guide, taking the ideas from professional interior designers, and offering tips to the consumers on how to pick the products to best suit their needs.