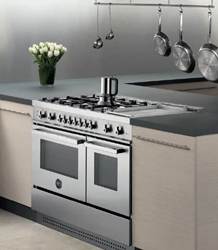 The trend towards professional style kitchens is really about building a more convenient, usable kitchen. This means introducing subtle personalized features as well as finding the best, most efficient fixtures and layout.
(PRWEB) September 26, 2013
HomeThangs.com – the Online Home Improvement Store has made their goal to deliver the right product to the consumer. With that in mind, shopping and home design tips, as well as special product selections are being introduced.
Professional style kitchens are more popular than ever, but unlike many other significant kitchen trends, it isn't necessarily immediately obvious what that entails. HomeThangs.com has introduced a guide to a few of the most important elements to a professional kitchen, and why they're worth having.
1. Professional Style Kitchen Ranges
Professional style kitchens are all about bringing the power and convenience of restaurant kitchens into the home. Designed for big time home chefs or really anyone who does a lot of serious cooking, the most important element should be pretty obvious: the kitchen range. High end designers have started producing spectacularly powerful kitchen ranges, with culinary-style gas cooktops with a whole range of features, from convection ovens to dual ring burners, as well as a whole host of accessories that allow for a versatile range of high-heat cooking styles in a single appliance.
2. Double Ovens And Freestanding Cooktops
If a powerful range is the most common option for a professional style kitchen, opting instead for a separate cooktop and dual wall mounted ovens is a close runner up. Buying these elements individually allows greater control over the type of fuel used for the cooktop and oven, and the more modular design allows for a more flexible kitchen layout, which can lead to an improved overall appearance and workflow.
3. Powerful Range Hoods
Using restaurant style cooking elements – and the high-heat cooking they allow – almost necessitate equally powerful range hoods. These can be vented or not, installed against a wall or in an island installation, but should have a high enough capacity to pull away all the smoke and grease produced by your cooktop. The larger the cooktop, the larger the range hood should be. In fact, right now it's trendy to have a range hood that's even slightly larger than the cooking element to ensure that the space is properly ventilated.
4. Industrial Kitchen Sinks
If the kitchen range or cooktop is the focal point of a professional style kitchen, a restaurant-grade sink is the real workhorse. Almost always made of stainless steel with sharp, 90 degree zero radius corners, restaurant style kitchen sinks are wide and deep, with a very high capacity. They may have either one or two bowls, but are much larger and heftier than an average kitchen sink. And like the kitchen ranges, really high end, commercial quality sinks often come with a host of accessories.
5. Luxury Faucets
No professional quality sink would be complete without an equally hard hitting faucet, but in a residential setting that can mean a couple of different things. Touch activated faucets are becoming hugely popular because they can easily be turned on and off without worrying about spreading messes or cross contamination. But for a real sleek, modern, professional style, look for faucets with long, flexible necks – often made of a flexible hose surrounded by a bendy spring rather than a solid metal neck. This allows a much more flexible, high powered spray that can be used to rinse dishes anywhere in that large sink. It also makes cleaning out the sharp seams in a zero radius sink easier.
6. Storage and Workspace
Finally, a true professional style kitchen is about more than just the component fixtures – it's also about the way the kitchen as a whole is designed. Professional style kitchens tend to have much more counter space, as well as dedicated prep areas like a baking station. Custom storage space is important too. Increasingly, storage savvy kitchen cabinets are becoming a must-have, from simple features like drawer dividers or pull out shelves, to more innovative solutions like pocket pull out cabinets, spice racks, or pantries that maximize storage and accessibility in the smallest possible footprint.
To see more of these elements in action, read the full article here.
HomeThangs.com is not only a home improvement superstore, it also provides expert design tips and a comprehensive shopping guide, taking the ideas from professional interior designers, and offering tips to the consumers on how to pick the products to best suit their needs.