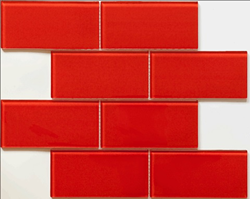 Soft leafy green tiles have become more popular in recent years, largely because they work well with popular renewable materials like bamboo to create a relaxing, earthy atmosphere.
(PRWEB) January 11, 2014
HomeThangs.com – the Online Home Improvement Store – has made their goal to deliver the right product to the consumer. With that in mind, shopping and home design tips, as well as special product selections are being introduced.
Adding a tile backsplash is one of the easiest and most affordable ways to dramatically update the look and feel of a kitchen. It's a simple but striking alteration, and can really help set the mood for the whole space. Installing a backsplash is also a great way to add color to a kitchen, and HomeThangs.com has introduced a quick guide to the most popular shades for every color in the rainbow.
Red tile backsplashes are very popular in modern kitchens, and work especially well contrasted with glossy white cabinets. Bold, intense, primary reds are daring and can really make the space pop, and work equally well whether they're small mosaic tiles or a single painted glass sheet.
Bright, bold oranges have also become something of a niche statement piece, especially in modern or professional style kitchens. Orange backsplashes have the same assertiveness that red ones do, but are a little softer and warmer feeling. Especially rich, pumpkiny oranges can be quite inviting, making for a less stark modern look.
As with paint, yellow can be a difficult color to get right. Sandy yellows a few shades darker than off white are easier to pull off and give a warm, sunny tint to the kitchen, but darker ochres and mustard yellows need to be paired very carefully with surrounding colors. Paying attention to light levels (both natural and electric) is especially important with this color; the wrong lighting can make the wrong color yellow look dingy or sickly.
Green is a color that's become a lot more popular lately, strangely in step with the green home movement. Soft, springy or sagey green tiles pair well with renewable materials like bamboo and are great for creating relaxed, natural, earthy kitchen spaces. Lime greens show up in the most modern kitchens, but by and large green tile backsplashes are limited to more subdued leaf tones.
Blue tile backsplashes are easily the most diverse in terms of tint, tone, and shade. While most other colors usually stick more or less to a few popular varieties, blue backsplashes come in every stripe, from icy baby blues to near-black navy, true-blue primary blues to assertive aquas and teals, and everywhere in between. Blue tile adds an open, airy feel to the kitchen, and has a pleasant calming effect. This is one of the few colors where one inch square tiles are still popular, too.
Purple is probably the most difficult color to use for a backsplash because it can be quite difficult to pair with any color besides more purple, which can mean committing to a very purple kitchen. That said, eggplant purple is a spectacular choice for the bold, while lighter, lavender tinted gray stone tile offers a subtler look for a more traditional kitchen.
To see some beautiful, colorful tile backsplashes in action, check out the full article here.
HomeThangs.com is not only a home improvement superstore, it also provides expert design tips and a comprehensive shopping guide, taking the ideas from professional interior designers, and offering tips to the consumers on how to pick the products to best suit their needs.